Reps Summon Adeosun, Adewole, Emefiele, Others.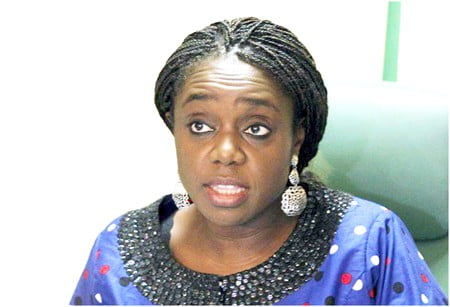 Minister of Finance, Mrs. Kemi Adeosun, and her Health counterpart, Prof. Isaac Adewole were today 1, March summoned by the House of Representatives over the removal of N10bn from the Treasury Single Account of the National Health Insurance Scheme.
The removal became a public issue and generated a fresh controversy at the agency, after the Executive Secretary of the NHIS, Prof. Usman Yusuf resumed duty.
Naija News learnt that the House of Representatives also summoned the Governor of the Central Bank of Nigeria, Mr. Godwin Emefiele; the Minister of National Planning, Senator Udoma Udo-Udoma; the Accountant-General of the Federation, Mr. Ahmed Idris; and the Director General of the Budget Office of the Federation, Mr. Ben Akabueze.
Naija News gathered that the money which had been tagged "missing" was taken in two batches of N5bn in December 2016 and N5bn in January, 2018. This prompted the House Committee on Healthcare Services to invite Yusuf today to explain what happened to the N10bn.
Naija News learnt that Yusuf, while speaking before the committee chaired by a member of the All Progressives Congress, Mr. Chike Okafor, stated that it would be wrong to describe the N10bn as "missing", as the money was deducted from the NHIS account by the finance ministry and the AGF as operating surplus recorded against the NHIS.
In retrospect, he stated that as of December 2016, the Ministry of Finance was already asking the agency to remit N8.8bn as operating surplus from 2012 to 2015.
"I went to the minister (finance) to explain that we are not a revenue-generating agency and that we didn't breach any Act, neither were we expected to remit operating surpluses.
"The money we keep is contributed by Nigerians and the government for their health services, as different from revenue," he told the committee.
However, Lawmakers have insisted on hearing from Adeosun, Adewole, Udo-Udoma, Emefiele, Idris and Akabueze before deciding what to do.
The motion was immediately endorsed by the session to summon the aforementioned officials of government.
President Muhammadu Buhari had abruptly reinstated Yusuf from a seven-month suspension after he was accused of corrupt acts at the NHIS.
Okafor asked the ES to share his suspension experience with the committee and his current relationship with Adewole.
Responding, Yusuf explained that the seven months were spent reviewing some of the decisions he took while he was in the office.
while referring to the relationship he had with Adewole, he said, "I have never had any personal issues with my supervising minister. He knows and I know that this is not personal.
"He is my senior in the medical profession and he is very qualified to be the minister. I have complete respect for him.
"The first office I visited on my resumption after the suspension was his office."
Source: Naija News