PDP senators call APC 'All Progressives Crisis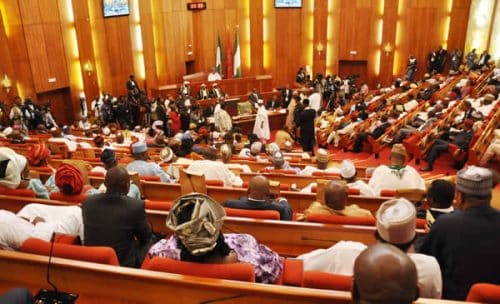 A  mini – drama was seen yesterday at the Senate  as Members of the minority Peoples Democratic Party mocked the APC over the current crises in the ruling party at the national level and in some states.
NaijaNews learnt that mini Drama  occurred af the Majority Leader, Senator Ahmad Lawan, had moved that the plenary be adjourned for the APC NEC meeting.
Lawan said, "Today, the All Progressives Congress, the ruling party, the APC, is holding its NEC meeting and it has already started. As a very time-conscious party, our colleague senators on this side (majority) are representatives of the chamber, and because of this I want to plead with all our colleagues here across party lines to show the understanding just as we had shown understanding when the minority party, the PDP senators have to go for congresses or whatever.
"Based on this, Mr. President, very distinguished colleagues, I move that we stand down all the items on the Order Paper to another legislative day, to enable our colleagues to attend the NEC meeting of the ruling party, I so move."
While saying this, the PDP senators chorused, 'All Progressives Crisis,' forcing Lawan to pause and called for 'protection' from the Deputy President of the Senate, Ike Ekweremadu, who presided over the plenary.
Seconding the motion, the Deputy Minority Leader, Emmanuel Bwacha, said, "Before I second the motion, I want to join my colleagues from the other side sincerely and wish them safe landing. The number of policemen we have is short because of the crises. I don't how many we will dispatch there to supervise (the meeting). So, Mr. President, having advised as such, I pray that there will be a safe landing."
Download Naija News App. Advertise with us. Send us enquiries and press releases.