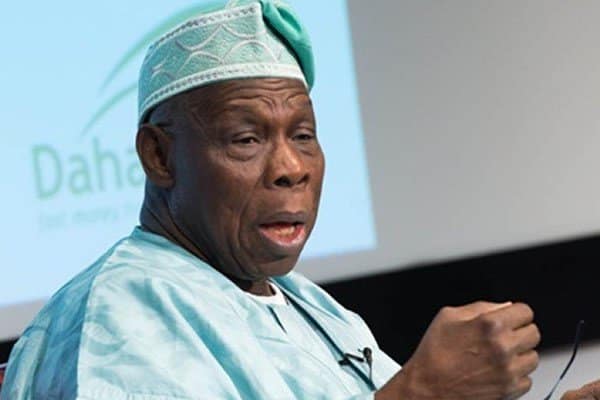 Abdullahi Adamu, the Senator representing Nasarawa West senatorial district, has slammed former President Olusegun Obasanjo for criticising  the President Muhammadu Buhari's administration.
Adamu, stated that Obasanjo is a corrupt man who has is in no position to advise Buhari against seeking a second term in office after he (Obasanjo) had dubiously sought for a third term in office.
He slammed Obasanjo saying that the past president would have been in jail if truly Buhari's anti-corruption war was exhaustive.
Senator Adamu, who is a former governor of Nasarawa State, made the remarks on Monday during a press conference reaction to the recent special statement issued by Obasanjo on Buhari's performance in governance.
The senator said: "Chief Obasanjo said that President Buhari is selective in his anti-corruption war. I agree with him because if the President were not selective, Chief Obasanjo himself would be in the dock today on trial on charges of corruption arising from the corrupt practices in the pursuit of his third term gambit in the National Assembly in 2006.
"He (Obasanjo) knows as well as I and other leading members of the PDP that he badly wanted it and initiated the process of constitutional amendment. He bribed each member of the National Assembly who signed to support the amendment, with the whopping sum of N50million.
"The fresh mint money was taken in its original boxes presumably from the vaults of the Central Bank of Nigeria and distributed among the legislators. The money was not his, and it was not appropriated by the national assembly as required by law. I therefore, agree that in failing to make former President Obasanjo account for the money, President Buhari is waging his anti -corruption war selectively.
"Nor should we forget that President Buhari has also not bothered to interrogate Obasanjo's role in the Halliburton scandal for which some Americans are cooling their heels in jail. Perhaps President Buhari might wish to look in the Siemens affairs in which the Obasanjo administration was indicted".
Senator Adamu also took a swipe at the former president  for rating Buhari's administration poorly on economy and security, saying that most economic and security challenges were inherited from the pthe previous government.
According to the legislator, "Every administration grapples with problems thrown at it by circumstances beyond its control. President Buhari inherited an economy that was unsteady on its feet.
"He also inherited the security problems such as Boko Haram, armed robberies and kidnappings. Yes, I agree, that under his watch these problems should grow less, not more. But the solution to problems such as these is a slow and agonising process since he has no powers to simply make them disappear overnight".
He lampooned Obasanjo further, alleging that his eight years in government almost ruined the hard earned democratic governance in Nigeria as a result of self-delusion and messianic mentality.
The Senator continued:  "He (Obasanjo) waged his anti-corruption in a manner intended to rubbish all our reserved institutions such as the courts and the national assembly in a way to be the only Nigerian without palm oil on his hands.
"The courts quaked over his unconstitutional rampapage . Chief Obasanjo left our democracy in a lurch. He was like a wrecking ball. In 2007, he alone, decided his successor in office contrary to the rules of the game, the repercussions and consequences of which are now history".
He further declared that the coalition Obasanjo advocated for in his statement would not fly, as it is an exercise in political skullduggery, just as he warned that if the former Nigerian leader doesn't desist from his behavioural pattern, he will end up being a national nuisance and irrelevant figure.