Gov. Ganduje Reacts To Alleged Child Voting In Kano, Says Pictures Were From School Assembly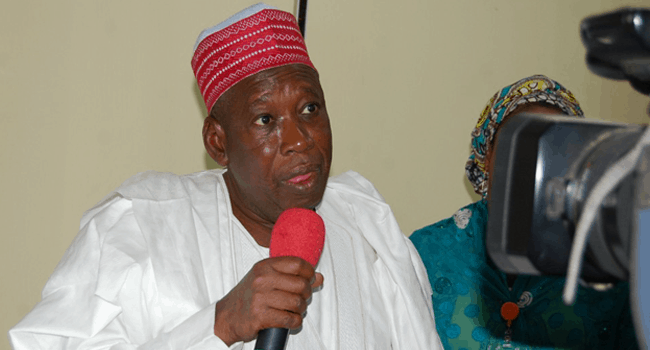 Governor Abdulahi Umar Ganduje of Kano State yesterday said that the alleged under age voting in the just concluded local government elections in the state was a mere propaganda put together by political opponents to discredit the good works been done by his administration.
The Kano State Governor, described the election as free, fair and credible as attested by election observers.
Governor Ganduje said this when he fielded questions from State House correspondents on the sideline of the high table dialogue on ethical values and national security organised by the presidency at the Old Banquet Hall, Presidential Villa, Abuja as reported by Vanguard.
He said that allegation of under age voting in the just concluded election in the state and the images of the kids that had gone viral on social media was not true.
He said: "That was propaganda. You can ask the National observers who went there, they held a press conference, all those pictures were children from school assembly. It is not true, it is part of the propaganda."
Let them go back to the state and ask the people did they queue up and vote in the election? "So, we don't even need to respond to such falsehood. Ask those who are credible and who witnessed the election, I think that is the most important rather than rely on the social media where things are crafted, and take pictures that were prearranged."
"Well, we conducted local government elections precisely on Saturday 10th February and it was very peaceful. Independent observers were there, the result was a 100 per cent APC. "The election is free and fair."
"So you can see that the insecurity was publicized outside Kano. People believe here that there is insecurity but in Kano, there is peace and stability."
"A month ago, we had inter faith dialogue between the Christians and Muslims and the Ulamas and the clergymen were all there. We had a resolution pertaining to the peace and stability in the state."
"And since I came into office, there has not been any outbreak of instability in the state, nobody has been killed, nobody has been injured as a result of political activities."
"So you can see that the propaganda outside the state is that there is insecurity in the state, practically we have been showing that it is false."
Download NAIJA NEWS app: