Stop Ruling With Double Standard – Fayose Tells FG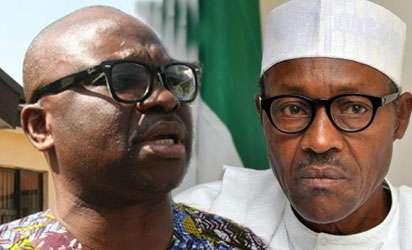 The Ekiti State Governor, Ayodele Fayose has urged the Federal Government to stop governing the country with double standard.
Fayose said this during the solidarity visit he paid to Benue State yesterday to commiserate with the people of the state over the brutal killings the state experienced on New Year's day by suspected herdsmen.
He said, "Those who committed less offence like hate speech are made to face the wrath of the law while those unleashing mayhem on others are treated as sacred cows."
He called on the people of the state not to be intimidated them saying the land belongs to them.
"This nation belongs to our forefathers and they bequeathed it to us and we should not allow anyone to chase others away, this country belongs to all of us," he said.
Fayose who described the killings as an act of terrorism, charged the federal government to stop ruling the country with double standard.
"I went to the graveside today and I was moved to tears. How can people be slaughtered like cows? There is no terrorism more than what has happened in Benue.
"I charge the Federal Government to stop ruling Nigeria with double standard. Killing innocent souls, sacking their communities is nothing but terrorism," he said.
He also reiterated his support for the anti-open grazing law in the state and called the people of Benue to stand by the law.
In his remark, Benue State governor, Samuel Ortom lamented the underwhelming performance of the security agencies in tackling the killings.
Ortom therefore, reiterated the call for the resignation of the Inspector-General of Police, Ibrahim Idris, whom he described as incapable of executing his duties.
Source: Naija News