Saraki Reacts To CCT Chairman's Case With EFCC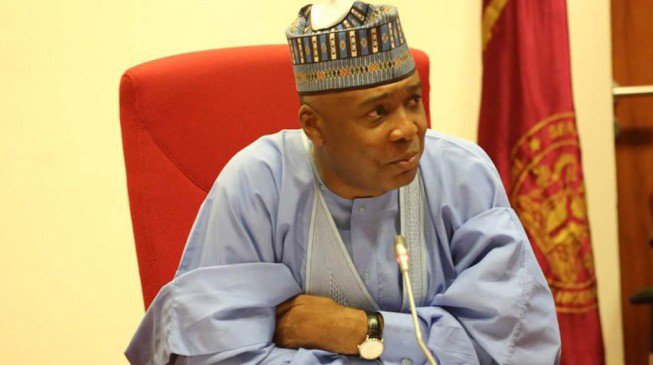 Senate President Bukola Saraki has expressed support for Danladi Umar, chairman of the Code of Conduct Tribunal (CCT), over his case with the Economic and Financial Crimes Commission (EFCC).
The EFCC had filed a two-count charge against Umar for allegedly receiving gratification to influence the outcome of a case that was before him.
Saraki made his position known in a series of tweets just before the resumption of his CCT trial on Tuesday.
The senate president however, expressed his confidence in the judiciary to uphold and deliver justice in all cases.
"I sympathize with the chairman of the tribunal, Mr. Danladi Umar, for his travail in the hands of the EFCC which suddenly woke up four days to the resumption of this case to file criminal charges against him," he tweeted.
"You will recall that in April 2016, when our lawyers asked the Tribunal Chairman to recuse himself from our case, because of the criminal investigation against him, the EFCC swiftly cleared Mr. Umar of any wrongdoing.
"Now, I find it amusing, that in a dramatic turnaround, this same EFCC now thinks that Mr. Umar has a case to answer just before the commencement of my case before him. What has changed since April 2016?
"As much as many Nigerians want to continue to believe that this my case is merely about asset declaration irregularities, the maneuvers, manipulation, intrigues, schemes, and "House of Cards" nature of this whole case proves otherwise.
"I really wonder whether those who genuinely love this government appreciate the damage that all this is doing to our so-called 'War Against Corruption.'
"However, in all of this, my confidence in the judiciary and its ability to do justice in all cases, remains unshaken."
Read More News. Download Naija News App. Send us enquiries and press releases.