Gov. Ishaku Alleges Plan To Attack Taraba State In 10 Days Time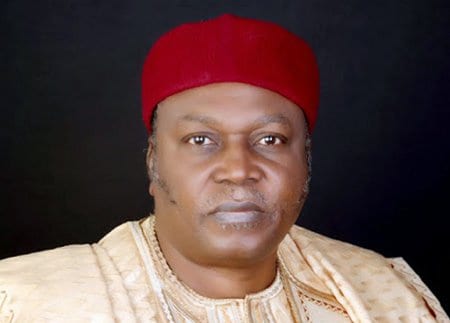 Governor of Taraba State, Mr. Darius Ishaku, has alleged there are plans by certain culprits to attack the state in the next 10 days.
Governor Ishaku further stated that the information has been passed across to security agencies for necessary action but he is unaware of actions taken by the security outfits on the information.
The governor raised the alarm yesterday in Jalingo when the National Chairman of Peoples Democratic Party, PDP, Mr. Uche Secondus, paid him a condolence visit over the death of the member representing Takum in the State House of Assembly, Hosea Ibi.
He said: ''National chairman, it's indeed a thing of joy for you and the National Working Committee, NWC, of our party to come and condole with us here in Taraba."
"Mr. Chairman, I have all the members of Taraba State House of Assembly here with me, I have informed them that you are coming for condolences and they are all here with me."
''Mr. Chairman, to tell you how the Nigerian security has deteriorated, Hon. Hosea Ibi left me, just an hour later, I received a call from his colleague, Mark Useni, that Ibi was kidnapped directly opposite the 93 Battalion Ada Barrack, Takum, where he went that night to discuss with his mother and sisters.
''Mr. Chairman, it pains me as a governor because the first word I promised to the people of Taraba on the day I took the oath of office is 'Give Me Peace and I Will Give You Development. And I want to ask Tarabans, have you seen the development? (The people said yes.)
''Mr. Chairman sir, development we have but peace is what we are battling with; I wonder those who drafted our constitution and left behind the constitution that would protect the lives and properties of our people.
''We copied our democracy from United States of America but we copied it wrongly; there, you have Marshals at the local government, you have the state police and you have the police at the federal level, and since I have been there, I have never seen the Army in any function, but here, they confine themselves at the federal level.
''I am a governor with a crown without a sword. How can I perform? How can I control power? If I am here with my police and I have challenge, even if it is 12 mid night, I will solve the problem but you have to rely on federal police.
''If you give them instructions, they will tell you until they get clearance from Abuja. Before they get their clearance from Abuja, you have lost more than 100 lives.
''The best thing to do now is to look at the restructuring of our country, if we truly want to move forward. Now, the choice is ours on whether we want to build a country, otherwise, if we are not careful, one day we will be ruled by war lords.
''It is unfortunate that the police here don't have the arms to defend themselves, let alone defend others. We, as opposition party, will keep talking because that is the only way we will bring an alternative to our people.
''Mr. Chairman, just the way you mentioned earlier that the basic responsibility of government is to protect lives and properties, you can imagine that some one went to his farm and his family is attacked and killed.
''As I talk to you now, there is a notice from unknown persons that Taraba State I'll be under attack in the next 10 days; we are waiting. We're talking now so that at the end of the day, some will say we did not talk.
''I have said it that before now, helicopter had dropped arms and ammunition here in Taraba, let the authorities check very well before it will be too late.''
Meanwhile, Punch reports that the Director, Defence Information, Brig Gen John Agim, said,
"Informing the defence and the security agencies would enable proactive measures to be put in place.
"The military, being the last line of defence, would require the Commander-in-Chief's directives to act.
For the records, the procedure is for His Excellency to bring such information to the immediate
attention of Mr. President and the military would move in if the crisis overwhelms the police."
Also, the Taraba State Commissioner of Police, David Akinremi, denied receiving any information from the governor.
He said, "As far as I am concerned, I have not received any letter from the governor. I am not aware that the governor informed us about any impending attack."
Download NAIJA NEWS app: