Nobody Can Remove Saraki – Senate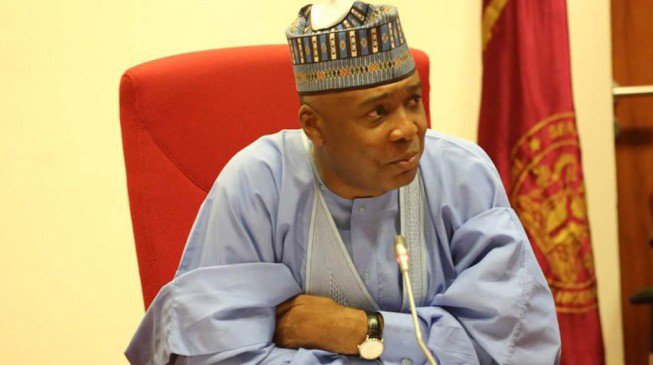 Following indications that plots are being made to sack the Senate President, Dr. Bukola Saraki, the Senate has declared that any scheme to remove him from his position would be futile, as members of the Upper Chamber support Senate leader.
The Senate spokesperson, Senator Aliyu Sabi Abdullahi, told newsmen over the weekend that the 109 senators have the right to select their leaders by election, which they had done.
Abdullahi said certain persons had being against Saraki since he assumed office as the senate President.
He said: "Nobody can remove Saraki. We elected him and we are not ready to remove him yet. From day one, they never wanted Saraki. What we are saying is that the right to choose the Senate President lies with senators and we have chosen our leader.
"From everything he has been doing as chairman of the National Assembly and as President of the Senate, he has provided stability. He has not only brought this to the National Assembly, but the entire country.
"The true face of democracy is the parliament and since Saraki came in, we have not failed this democracy."
On the amendments by the House of Representatives to the Electoral Act, which made changes in the election order, Abdullahi stated that the conference committee instituted to reconcile the disparity between the versions of the Senate and the House, would meet this week.
The senator stated that: "The key issues have been debated and agreed upon. All that is remaining is to bring the two chambers together through the conference committee by next week, as the areas of contention are not much.
"And I believe they will work together to make sure that we have an agreeable component that the Nigerian people will be happy that we are deepening the electoral process," Abdullahi said.
He indicated high hopes that the harmonisation would be achieved in two weeks.
Abdullahi said: "What we did was transparent; INEC was part of it. People with interest were part of it. Since we are passing what is popular, the presidency too should not take time in assenting to it.
"If the president decides to veto the bill, we will know what to do when we get to that bridge. For now, I do not envisage that extreme situation. This is a democracy.
"I am hoping that we work based on a consensus. At the end of the day, we should be able to agree. The interest of Nigerians is paramount and we will not take it for granted."
Download NAIJA NEWS app: