Police Arrest Ex-Minister, Oby Ezekwesili, Aisha Yesufu, Others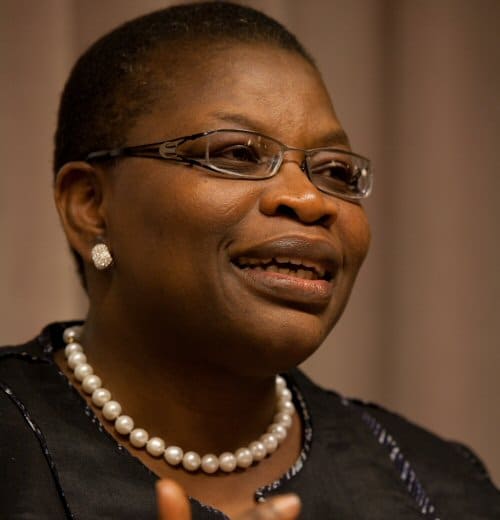 A former Minister of Education and convener of the BringBackOurGirls group, (BBOG) Oby Ezekwesili, has been arrested and detained by the police in Abuja.
Naija News learnt that her arrest seemed to be connected with the activities of the group, criticising the Federal Government.
In a series of tweets on her Twitter handle, @obyezeks, the former minister said she was arrested alongside some members of the BBOG group – Aisha Yesufu, Maureen Kabrik, Jeff Okoroafor and four others.
The Socio-Economic Rights and Accountability Project (SERAP) has therefore reacted to the posts via its Twitter page, demanding the immediate release of those arrested.
SERAP tweeted, "The reported false imprisonment & detention of @obyezeks & members of @BBOG_Nigeria makes a mockery of @MBuhari's claim that this govt is one of change that is governed by d rule of law. The authorities should immediately release them & allow them to freely exercise their rights."
Also,
Premium Times
reports that rights activist and senior lawyer, Femi Falana, condemned the arrest in a statement.
He said,
"This morning the Police arrested Dr. Oby Ezekwesili and 7 other  members of the Bring Back Our Girls organisation at the Unity Fountain, Abuja.
"Although the Police did not accuse them of committing any criminal offence they have been taken away to an undisclosed detention centre."
See Ezekwesili's tweets below:
The FG of President .@MBuhari instructed the IG of @PoliceNG to DETAIN ME AND OTHER MEMBERS of @BBOG_Nigeria here at the Unity Fountain. Police men and women have BUILT AN IMPREGNABLE WALL and LOCKED ME IN. I have asked them more than 30 times to LET ME OUT and they REFUSED.

— Oby Ezekwesili (@obyezeks) January 23, 2018
President @MBuhari The police officers deployed by IG of .@PoliceNG is VIOLATING my FREEDOM of MOVEMENT by LOCKING ME IN in broad day light at the Unity Fountain. THIS IS A DEMOCRACY. Officer Tina Ishaya just again REFUSED TO LET ME OUT OF THEIR WALL.

— Oby Ezekwesili (@obyezeks) January 23, 2018
President @MBuhari at your instruction, the IG of @PoliceNG CONTINUES TO DETAIN ME and HAVE ARRESTED SOME OF OUR MEMBERS.

— Oby Ezekwesili (@obyezeks) January 23, 2018
President @MBuhari The police officers deployed by IG of .@PoliceNG is VIOLATING my FREEDOM of MOVEMENT by LOCKING ME IN in broad day light at the Unity Fountain. THIS IS A DEMOCRACY. Officer Tina Ishaya just again REFUSED TO LET ME OUT OF THEIR WALL.

— Oby Ezekwesili (@obyezeks) January 23, 2018
See SERAP's tweet below:
The reported false imprisonment & detention of @obyezeks & members of @BBOG_Nigeria makes a mockery of @MBuhari's claim that this govt is one of change that is governed by d rule of law. The authorities should immediately release them & allow them to freely exercise their rights https://t.co/I5mLRp7YrT

— SERAP (@SERAPNigeria) January 23, 2018
Download NAIJA NEWS app: