Ogun Govt Receives 64 Libya Returnees, Re-Unite Them To Their Families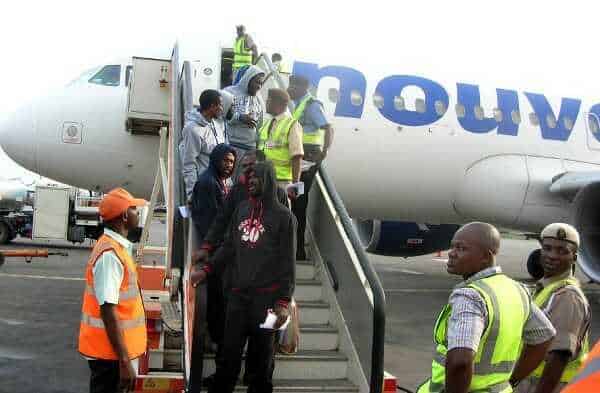 The Government of
Ogun State
has received 64 of the Libya returnees who are indigenes of the southwestern state.
The returnees were received at the June 12 Cultural Centre in Abeokuta.
Present to welcome them,  the Commissioner for Environment, Mr Bolaji Oyeleye, stated that the state government brought them home, with the support of the National Emergency Management Agency (NEMA).
"We were contacted by NEMA to come and take responsibility for our people. This we responded to swiftly.
"We thereafter created a means through which these returnees could contact their relatives so that they can go home and reunite with the rest of their families."
Oyeleye said once the returnees were confirmed as indigines of the state, the Ogun government had been catering for their welfare including stipends for transportation back to their various homes so as to reunite with their various families.
Speaking on the joy of the Government in receiving its natives, the Commissioner for Information and Strategy, Mr Adedayo Adeneye, advise returnees and residents as in general, particularly the teeming youth, to take advantage of the opportunities available in Nigeria, rather than leave the country by hook or crook.
Adeneye included that, "My advice to youths, who may want to embark on a similar journey as these returnees, is that the grass is sometimes not greener on the other side, if they put the same resources and efforts into doing something meaningful here, they can make it. People make it here every day. We all have the responsibility of doing our bit in order to get our country to where we desire it to be."
Source: Naija News