Tambuwal Appreciates Military For Establishing Hospital In Sokoto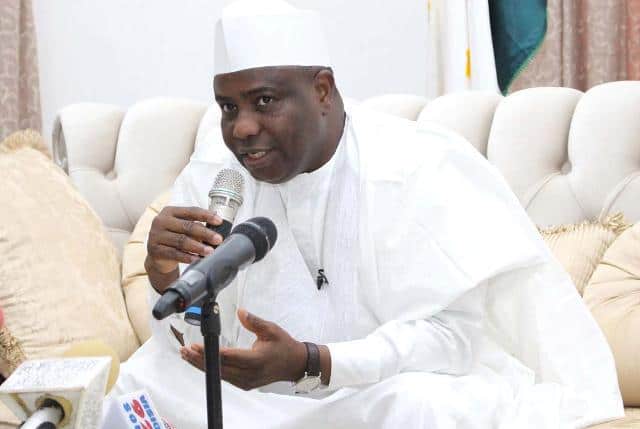 The Governor of Sokoto State, Aminu Waziri Tambuwal, has praised the Nigerian Army for setting up a tertiary military hospital in the state.
In a statement issued on Tuesday, by the Governor's spokesman, Malam Imam Imam, Tambuwal said the hospital is the first of its kind in Nigeria.
Tambuwal added that it will also serve as a research institute with a United Nations'-grade international public health laboratory, as well as a centre of excellence for diseases of military importance.
The state government had earlier provided a space at the Murtala Muhammed Specialist Hospital for the hospital's temporary use, pending when work on its permanent site will be executed.
The statement read in part: "First of all, I want to inform the people of Sokoto State that our efforts in attracting important projects from within and outside the country has continued to yield positive results.
"This hospital is of great importance not just to the military, but to our people as a whole. Diseases of military importance are areas of concern globally because of the large population of people that can be infected after outbreaks.
"Such diseases are subject of importance in efforts to counter bio-terrorism and bio-weapons by aggressor nations. These infectious diseases include dengue fever, ebola, lassa fever and anthrax, among others.''
Gov. Tambuwal added that "having a centre like this in Sokoto, dedicated to countering these likely outbreaks is a welcome development. We will support the hospital with facilities and logistics to properly take off until it is fully on its feet."
The statement also dismissed the speculation that the government had permanently handed over the Murtala Muhammed Specialist Hospital to the military.
According to the Governor, "We just sent a bill to the state House of Assembly to establish the Murtala Muhammed Specialist Hospital as property of the state government. Its position has not changed. The military will use the facility pending when all facilities for the newly-established Nigerian Army's 8  Division, Sokoto, are fully ready."
Download NAIJA NEWS app: