Nigerian Army NabCult Leader Who Killed 2 Policemen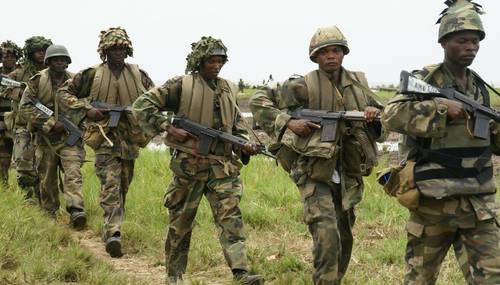 Soldiers have raided a cultist groups' hideout and killed its leader, Akaninyene Jumbo, after tracking him to the boundary area between Akwa Ibom and Abia.
The 2 Brigade Nigeria Army made the revelation in a statement, on Tuesday, saying that the raid was carried out on January 15.
The statement issued by the Brigade Assistant Director of Information, Umar Shuaib, to journalists in Uyo revealed that the cult leader had masterminded the killing of two police officers.
According to Shuaibu, "The gallant troops of 2 Brigade Nigerian Army had on Monday 15 January 2018 acting on tipoff trailed a notorious cultist and renowned killer Akaninyene Jumbo Uko Alias Isopafit at Inyih village, a border town between Akwa Ibom and Abia states.
"The culprit was known for terrorising the inhabitants of Ukanafun Local government Area in Akwa Ibom State.
"He perpetrated the killings of two Nigerian Police personnel and a Truck driver in Ukanafun local government area on 17 November last year.
"Also masterminded the killing of a commissioner's sister and two others in Ikot Oko Osun community in Ukunafun local government area on 19 November 2017.''
Shuaibu also stated that one pump action gun, two locally made short guns, 13 live cartridges, eight expended cartridges, two dane guns and two cutlasses, were recovered from the suspects.
The statement also revealed that the alleged cultists had been dodging from the police, adding that following the first operation, the troops after getting information invaded the hideout of the remaining gang members at Ikpe village in Eton Ekpo Local Government Area on January 16.
"The troops engaged the hoodlums and killed two members, Aniebet Effiong Udoh and Thankgod Friday Osiokpaphi,'' it said.
The two suspects are said to be second in command to the kingpin.
Meanwhile, some of the members of the cultists escaped with gunshot wounds, with the corpses had been deposited at the University of Uyo Teaching Hospital mortuary.
The statement said that the Commander, 2 Brigade Nigerian Army, Abdu Hassan, has assured law abiding citizens in the area that the Brigade will do everything within its powers to protect their lives and property.
The statement solicited the support and cooperation of the public by reporting any form of crime to appropriate security agencies.