Nigerian Army Arrest Fake Soldier In Lagos State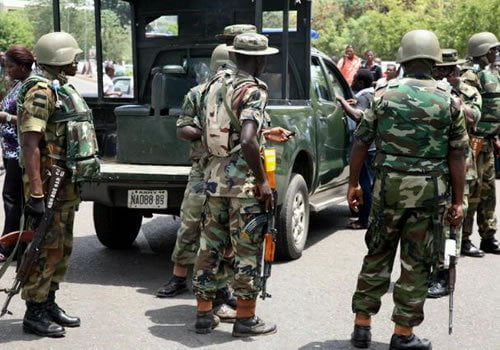 Pascal Philip, a middle aged man who disguises as an army personnel to harass and molest innocent residents in the Ikorodu area of Lagos state, has been arrested by troops of 174 Battalion, 9 Brigade Nigerian Army.
He was arrested on Tuesday in Isawo area of Ikorodu while extorting innocent civilians in the area.
The arrest of the impostor was confirmed by Brigadier General Sani Kukasheka Usman
Director Army Public Relations in a statement released on Thursday.
Usman, said the suspect would be handed over to the police and also urged members of the public to always report any suspected case of unnecessary intimidation in their area.
"Troops of 174 Battalion, 9 Brigade Nigerian Army, on Tuesday 10th January 2018 arrested one Mr. Pascal Philip who goes about impersonating soldiers and molesting hapless and unsuspecting civilians at Isawo area of Ikorodu, Lagos State." The statement reads.
"The Suspect who was arrested while molesting innocent civilians in Isawo falsely claimed to be a personnel of 174 Battalion, Nigerian Army. He was arrested dressed in camouflage T-shirt molesting, extorting and intimidating law abiding civilians in the area."
"The suspect is currently under going further interrogation and would soon be handed over to the police for further investigation and prosecution."
"The general public could help security agencies by reporting such persons parading themselves as military personnel and molesting innocent civilians to relevant military units and formations."