Military Kills 50 Boko Haram Insurgents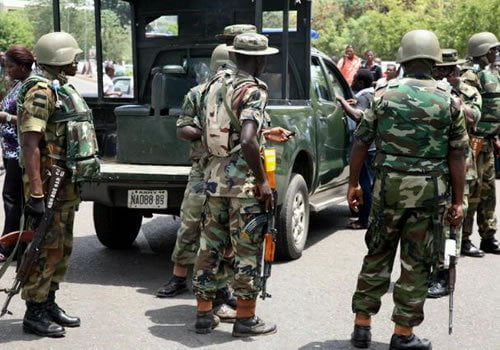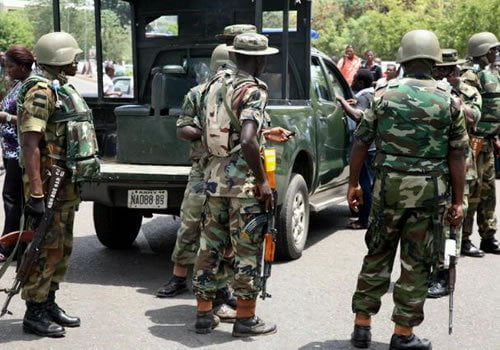 The Nigerian Army has killed over 50 members of the Boko Haram sect in the Lake Chad area in recent operations.
The military also destroyed several high-calibre arms and ammunition in the said area.
The Director, Army Public Relations, Brigadier-General Sani Usman, made the revelation this week, disclosing that the incident occurred after a Boko Haram vehicle loaded with improvised explosive devices (IED) collided with an MRAP vehicle conveying the soldiers.
The Director stated that four of its men on counter-insurgency operations in the North East were killed, with nine others sustaining severe wounds in a battle with the terrorists in Borno State.
The corpses of the dead officers have transferred to a mortuary, with the injured taken to 8 Division Medical Services and Hospital, Monguno, for medical attention.
Meanwhile, the military added that the soldiers recovered several other weapons possessed by the terrorists and destroyed their hideouts in Metele village, Tumbun Gini and Tumbun Ndjamena.
Usman said the force recorded the achievement in the ongoing Operation Deep Punch 2 being conducted in the various sectors. Usman, in the statement, said: "Troops in Operation Lafiya Dole have been making tremendous progress in the ongoing Operation Deep Punch 2 in the various sectors. So far, the troops have neutralised over 50 Boko Haram terrorists, destroyed and captured high-calibre arms and ammunition, especially in the Lake Chad general area.
"Troops, on January 8, 2018, cleared Boko Haram terrorists in Metele village, Tumbun Gini and Tumbun Ndjamena. During the clearance operations, Boko Haram terrorists abandoned the area in disarray, leaving behind livestock, large quantity of foodstuff, motorcycles and donkeys. Also, in Metele, however, the terrorists attempted to attack troops in harbour but this was stiffly resisted with heavy casualty on Boko Haram terrorists.
"Troops neutralised over 57 of them, destroyed gun trucks and other equipment. The gallant troops also discovered terrorists' logistics base at Tumbu Ndjamena, which held stocks of fish, foodstuffs, fuel and motorcycles. All these items were promptly destroyed.
"Troops also captured one anti-aircraft gun, 116 rounds of 12.7mm ammunition with metal links, four AK-47 rifles, 57 rounds of 7.62mm ammunition (special), two light machine guns, two rocket-propelled grenade 7 tubes, with one RPG bomb and two already primed 36 hand grenades. Other recovered items include one small solar panel with a Gionee mobile phone, one Holy Qur'an, six Hadith books as well as five gun trucks (which were destroyed).
"Sadly, four of our troops paid the supreme price while nine others were wounded in action. Specifically, a Boko Haram vehicle laden with IEDs rammed into an MRAP vehicle, which exploded, killing three soldiers, a Civilian JTF and wounding the other soldiers. The bodies of the gallant and wounded heroes have been evacuated to 8 Division Medical Services and Hospital, Monguno."