Governor Ortom Weeps As Herdsmen Invade Benue Villages, Kill Residents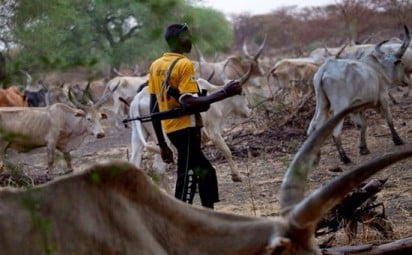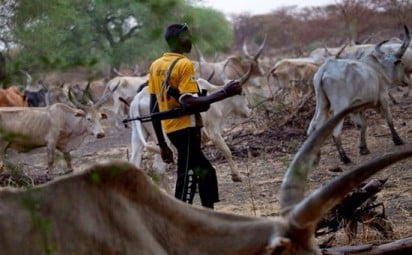 Herdsmen kill scores in Benue villages.
Tragedy struck in Benue State, when some Fulani herdsmen attacked two local government areas -Guma and Logo in the state, killed over 50 persons and left many with severe injuries.
The attacks were reportedly perpetrated between New Year Day and yesterday in both local government areas.
Naija News gathered that Benue State Governor, Samuel Ortom, who hails from Guma Local Government Area, wept profusely at the scene of the attacks.
Confirming the incident, the Chief Press Secretary to the governor, Mr. Terver Akase, said those killed in the attack included nine members of the Benue State Livestock Guards, while many were seriously injured.
A source, anonymously revealed that the herdsmen came into Logo at about 10 a.m. on New Year day, and shot sporadically as worshippers were coming out of church. He disclosed that the communities attacked were Ayilamo, Turan and Gaambe-Tiev in Logo.
Also, similar attack took place in Akor, Umenger and Tomatar in Guma Local Government Area at about 3 a.m. on Tuesday.
The source added that several persons were still missing while several houses and property worth millions of naira had been destroyed.
He said that members of the newly established Livestock Guards, set up by Ortom for the enforcement of the Anti-open Grazing Law were also killed, and condemned the attitude of the government for deliberately refusing to send patrol vehicles to the area.
Naija News gathered that Ortom was at the Benue State University Teaching Hospital to visit those injured and expressed shock at the number of the persons murdered when he visited the hopsital's mortuary.
Lamenting the situation, the governor called on President Muhammadu Buhari to come to the aide of his people and protect them from the hands of the ruthless herdsmen.
It was gathered that the incidents also compelled the governor to call an emergency meeting of the State Security Council on Tuesday to discuss the issue.
Speaking with newsmen at the end of the meeting Ortom said: "What I have seen here is far beyond the report we received. Several innocent people have been killed. Women and children murdered with their throats slit open.
"Many people are still missing while several houses have been destroyed. The whole of Guma and Logo have been turned into desolate lands.
"You would recall that I made official reports to the federal government about the intended invasion of Benue State by these herdsmen who claimed that they would resist the (Anti-Grazing) law. I have never seen where people would come out with this level of impunity.
"This is unfortunate; we are living in a country that is presumed to be our own. Security agencies in this country had been aware of the impending attacks and what you are seeing here is just a tip of the iceberg."
He added: "From the report I have gotten so far, what has happened is beyond what we are seeing here in Makurdi where some of the dead and injured are being brought for medical attention.
"So many people have been killed, houses razed and some of those killed had their throats slit, eyes and private organs removed and killed like animals. You can imagine that innocent women and children and unarmed people were slaughtered in cold blood just for no reason at all because they want to be law abiding.
"I feel sad about all this. Is this how we are going to continue? The federal government and President Muhammadu Buhari must rise and give us protection to show that we are truly citizens of this country.
"Though we will continue to urge our people to be law abiding, there is a limit to what we can bear. This is not fair, it is not right and certainly unacceptable."
Download NAIJA NEWS app: