The suspected kidnapper tried to steal twins from their school in Kilanko, Ilorin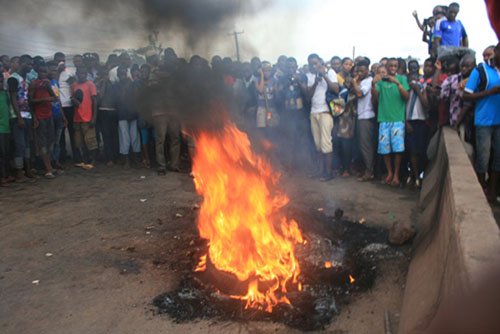 Angry Mob Sets Female Kidnapper Ablaze in Kwara
A suspected female kidnapper has been caught by an angry mob.
The suspect was nabbed on Monday, at Offa Garage in Ilorin, Kwara State .
Naija News gathered that the woman had gone to an Arabic school  in the Kilanko area of Ilorin, attempting to steal twin babies.
The suspect had gone to the school premises in the guise that the mother of the babies sent her to pick the children on her behalf.
A source in the Arabic school, pleading anonymity, disclosed that the woman was found out as the school authorities contacted the twins mother.
The twins mother  hurried to the school refuting claims of sending anyone on her behalf to pick her kids.
The wailing of the suspected kidnapper attracted residents who then stormed.
The angry residents marched the suspect down to the Ilorin-Offa Road by the mob.
Some other concerned residents tried to calm the infuriated mob in order to take the suspect to the police station, but they were unable to.
Hence, the mob reportedly set the woman ablaze around 10am.