Biafra: Ohaneze Vows To Resist Another War On Igbo Land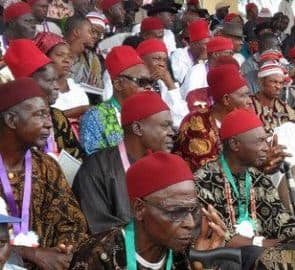 -Chief John Nwodo promises to sabotage any attempt to bring war on Igbo land in the name of Biafra agitation.
-He however called for restructuring and fiscal federalism as a means to address the agitation for Biafra.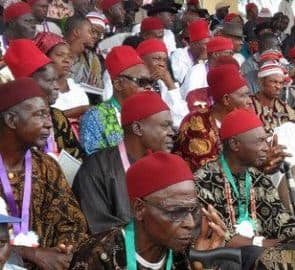 I won't allow another war on Igbo land – Nwodo
President -General of the apex Igbo Socio-cultural organisation, Ohanaeze Ndigbo, Chief John Nnia Nwodo, has vowed to resist any attempt to bring war on Igbo land under the guise of agitation for Biafra.
Chief Nwodo made the vow, yesterday, while addressing Ndigbo in Lagos at the practice pitch of the National Stadium.
He recalled that more than two million Igbos lost their lives at the war front during the Nigeria-Biafra war, with many loosing loved ones and property. Nwodo said as a leader he would not fold his arms and allow such fate befall his people again.
Nwodo however maintained support for the agitation for Biafra itself by various pressure groups including the Indigenous People of Biafra, (IPOB) but opposed the methodology been adopted.
According to him, the only way to avoid marginalization and oppression of Igbos in Nigeria which is the root cause for the Biafra agitation is for the federal government to adopt restructuring.
He argued, that restructuring and fiscal federalism which will allow the states to control their resources, handle issues like police, education, health, mineral resources, etc while the Federal Government handle functions like immigration, customs, central banking, aviation and external affairs.
Nwodo declared his position in reaction to placards displayed by pro-Biafran youths who stormed the venue while he was addressing the crowd.
"Nobody should touch these youths. They are my children. When I was their age, I was in the trench fighting for Biafra. My best friend died at the battle front. He said.
"More than one million people were killed in the battle, one and half million people starved to death…you can't be a youth then without going to the battle front."
"I can't allow that to happen to my people again. That is why I will be a saboteur in any attempt to levy another war on Igboland."
"That is why Ohanaeze wants restructuring of Nigeria."
Source: Naija News