-"anybody who eats smuggled poultry products is actually embalming himself while still alive."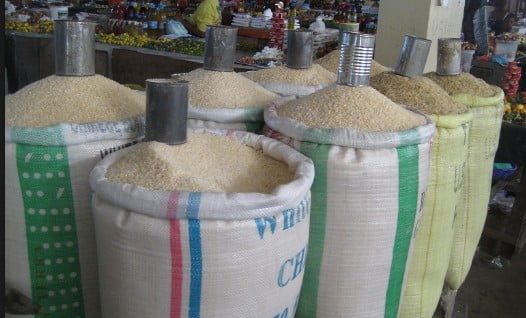 FG warns of poisonous rice
The Federal Government has alerted the public that there are some brands of poisonous foreign rice being circulated across the country.
The government also declared that at present, all foreign brands of rice in Nigeria were smuggled into the country.
 The government said that recent tests conducted by the Federal Ministry of Agriculture and Rural Development revealed that most imported rice and poultry products were poisonous.
It said the commodities had been kept for several months before being shipped to Nigeria and neighbouring countries.
The state of rice imported rice was made known in Abuja by the Minister of State for Agriculture and Rural Development, Senator Heineken Lokpobiri during a stakeholders' engagement programme on how to stop the importation and smuggling of frozen poultry and rice into the country.
He said, "For imported rice, we don't know how long it had been in their (exporters) silos. Recently, one country decided to bring in a shipload of rice into Nigeria so that we can use it to support the IDPs (Internationally Displaced Persons ) in the North-East, but when we subjected the rice to a test, we discovered that the rice was actually poisonous.
 "This means that most imported rice have been in silos for 10 to 15 years and have no nutritional value. So what we have told them is that anybody who wants to support the IDPs or any other person in Nigeria should please use our local rice.
"The argument is that local rice is more expensive, but we say even if it means buying half bags , do it.
"It is better for us to eat a smaller quantity of nutritious rice than for us to take poisonous shiploads of rice.
"Also, we discovered that chemicals used for smuggled poultry products are the ones used for embalming corpses.
 "So, what we want Nigerians to know is that anybody who eats smuggled poultry products is actually embalming himself while still alive."
Source: Naija News