Slave Trade: 144 Nigerians return from Libya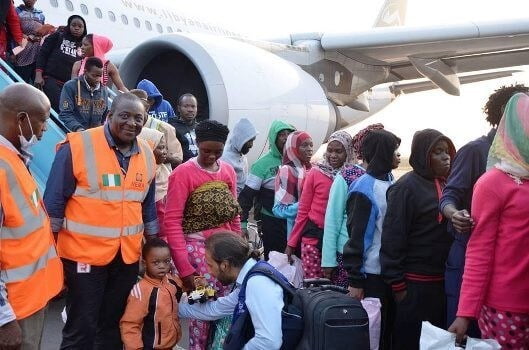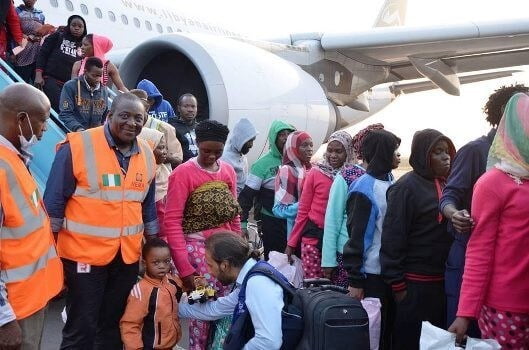 More Nigerians repatriated from Libya.
No fewer than 144 Nigerians have returned to Nigeria from Libya through a chartered Buraq Airlines aircraft on Tuesday as some government agencies received them at the Murtala Muhammed International Airport, Lagos at about 6:45 pm.
Naija News gathered that they were provided aid back home by the International Organisation for Migration, (IOM), and the European Union (EU).
The Lagos State Governor's wife Bolanle Ambode, who represented the wife of the President, Aisha Buhari, was present at the airport to receive them.
The South West Zonal Coordinator of the National Emergency Management Agency, Suleiman Yakubu, said the returnees were 97 men, 39 women, two children and six infants.
The Senior Special Assistant to the President on Foreign Affairs and Diaspora, Abike Dabiri-Erewa, also present at the airport, commended the IOM for facilitating their return.
She, however, Nigerians should be stopped from embarking on the perilous journey to Europe in search of greener pastures.
One of the returnees, Godsent Jatto, from Edo State, said, "I am so happy coming back to Nigeria. I will never dream in my life to pass through Kano to Libya again".
Recounting his ordeal, Jatto said some Nigerians even lured their lured their fellow brothers to Libya only to get them into human trafficking. He said some were sold to the Arabs who call the Nigerians' families in the village demanding for money for them to be freed.
He said traffickers usually lie to people back in Nigeria that their relatives have crossed to Europe whereas some of them have drowned in the Mediterranean Sea.
"My advice to Nigerians that still want to embark on this journey is that they should not try it. Keep doing anything you are doing here because your country is your country," he said.
Another returnee, Caroline Ishola, an aspiring actress from Ekiti State, described her journey to Libya as a misadventure.
"My experience was bad. It is a very dangerous country. I was an actress before embarking on this journey and I paid the person who took me N400, 000 at first and paid more when I got to Libya.
"I was sold in Libya but thank God it was not into a connection house and at the end of the day the place was raided by the Police and we were arrested and that was how I got back," she said.
Source: Naija News