-Goodluck Jonathan was misled by religious and ethnic bigots who surrounded him.
-The former president failed to handle the Chibok girls saga correctly according to Governor Shettima.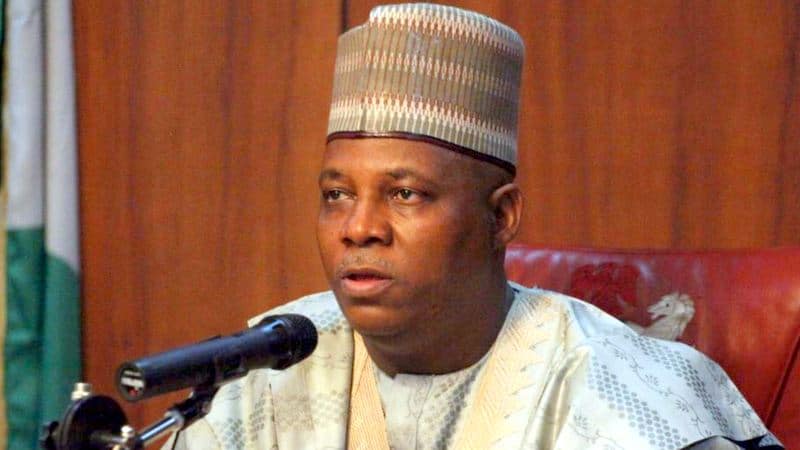 Shettima reveals how Jonathan lost the goodwill of Nigerians.
Kashim Shettima, the Borno state Governor, has described former president Goodluck Jonathan as a leader who lost the his political good will and popularity due to the type of people he surrounded himself with during his administration.
The governor insists Jonathan led a bad government and was blocked from reality by religious and ethnic leaders close to him.
Speaking further, he disclosed Jonathan handled the Chibok girls kidnap saga poorly due to his lack of political intelligence and discernment.
He made the submissions while speaking at the unveiling of a book written by the spokesman of the All Progressives Congress (APC), Bolaji Abdullahi: 'On a platter of gold: How Jonathan won and lost Nigeria' in Abuja, yesterday.
"I dare to say that sheer display of bad governance, lack of political sagacity and will power squandered the enormous goodwill Jonathan commanded and subsequently got him voted out of the office.
"Within the short time of his ascendancy, to paraphrase the author of this book, he went from a man who controlled the populace to the clueless, from the most followed president on Facebook in the world to the most cursed president.
READ ALSO: Free education continues in Ondo State
"Dr Jonathan's political profile rose within a short time and in a spectacular manner due to the poor handling of the most important issues affecting Nigeria at the time such as the fuel subsidy scandal, the Boko Haram insurgency and the general feeling of insecurity, particularly with the abduction of the Chibok schoolgirls, the crisis in the then ruling party, the PDP, Jonathan left much to be desired.
"And it brought his image down in an alarming rate and perfected the imagination of Nigerians, real or imagined, even beyond our shores that he was insensitive to the plight and suffering of most people.
"Thus, his fairytale rise to power and honeymoon with Nigerians was quickly forgotten and it culminated in the unprecedented defeat of a sitting president by an opposition candidate in Nigeria. Although his manner of conceding defeat earned him a lot of praise and hero status, even his most ardent supporters knew he should have ended in a much better circumstances.
"It goes beyond reasonable doubt that the leadership of President Jonathan represents a turbulent period in our national life, has and will continue to shape, good or bad, the fortunes of our country," he said.
"If you look at Obasanjo, hate him or love him, you have to respect him for not only believing in the Nigerian project but also by surrounding himself with men of quality.
READ ALSO: Armed robbers raid police station, bank in Niger
"If you mention Obasanjo, the names that literally come to mind are those of Oby Ezekwesili, Aliko Dangote, Femi Otedola, Jim Ovia, Tony Elumelu, Nasiru el-Rufai, Nuhu Ribadu, Bukola Saraki and other quality Nigerians who had the capacity to add value to the system.
"Obasanjo, take it or leave it, among those people, the only Yoruba person was Femi Otedola and he was not even deep in the power circuit. But when you think of President Jonathan with all due respect, he surrounded himself with an assorted crop of religious bigots, tribal kindred and all sorts of reactionary elements- Ateke Tom, Government Tompolo, Oronto Douglas (late), Asari Dokubo, Edwin Clark, Ayo Oritsejafor among others.
"And because he is such an honest man, recently, he confided in Sen. Ben Bruce that his major undoing was his poor relationship with the Borno governor. That is GEJ for you. We are wishing him the best of luck in his retirement years. He can redeem himself by serving God and humanity, by serving Africa. We are wishing him all the best," he said.