Kaduna Assembly suspends two PDP lawmakers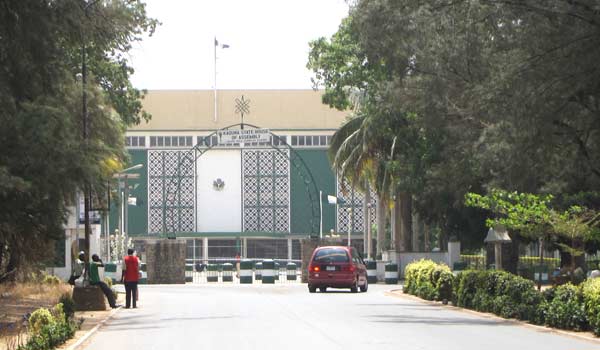 Two PDP lawmakers suspended in Kaduna.
The Kaduna State House of Assembly suspended two of its members indefinitely on Tuesday, for allegedly engaging in some activities capable of engendering conflict in the assembly.
The suspension came after a motion moved by Muktar Hazo, a member representing APC- Doka Gabasawa Constituency, on matter of urgent public importance.
Naija News gathered that the suspended lawmakers are: Bityong Nkom representing PDP-Kaura and Danladi Kwasu representing PDP- Zangon Kataf.
According to Hazo, the two members engaged in some acts that can cause rancor in the state assembly.
"What they were doing can bring the assembly into disputes and this assembly is known nationwide as one of the best and as such we should uphold that.
Read also: Maina: Sack AGF Malami Abubakar if he refuses to resign – Lawyers tell Buhari
"In this regards and in order to safeguard the integrity of this great Assembly, I wish to move that Danladi Kwasu and Bityong Nkom representing Kaura and Zangon Kataf respectively be suspended from this assembly till further notice," he said.
Abdulrahman Haruna, representing APC-Kawo, seconded the motion, saying, "Anybody who wants to create problem in this Assembly, nobody will stop us from taking action against that person. I therefore second the motion."
Read also: 2018 Budget: Nigerian Senate promises to implement 2014 National Health Act
Bityong Nkom, in his reaction, said that the House should tell them the offence they have committed.
"Let the procedures be followed, you don't suspend me before you invite me to ethics and privilege committee. Why do you suspend me before you hear from me," he said.
Danladi Kwasu also said, "Mr Speaker I want to know my offence, this is democracy, please tell me my offence," he begged.
The speaker, Aminu Shagali, suspended the two lawmakers till further notice and directed the sergeant at arms to take the two members out of the plenary.
He therefore, adjourned the sitting until Tuesday.
Source: Naija News