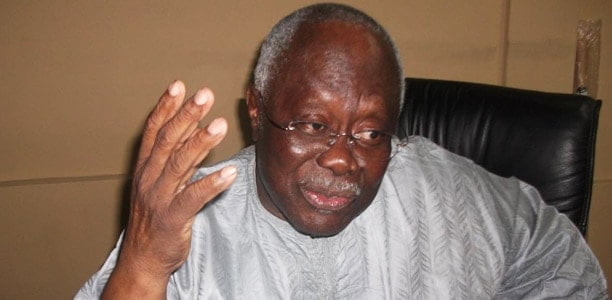 Return to PDP – Bode George tells Atiku
Chieftain of the Peoples Democratic Party (PDP), and PDP chairmanship candidate, Chief Bode George has urged former Vice President Atiku Abubakar to return to the PDP.
George made the assertion during his campaign tour on SUnday in Katsina, as he addressed PDP cohorts soliciting their support for his chairmanship ambition.
"The former vice president is a landlord in the Peoples Democratic Party (PDP), as he was among the G-34 that established it.
"In the All Progressives Congress (APC) party, Atiku is just a tenant that can be kicked out any time the landlord wants.
READ ALSO: PDP Chair: Bode George campaigns in Delta State
"But in the PDP, nobody can kick Atiku out because he has laboured for the establishment of the party.
"Just because your house is leaking, you cannot abandon it and move to a rented house," he said.
The PDP stalwart urged party members to close rank and do the right thing as the Dec. 9, convention date approaches.
"If we miss to select the right leaders during our convention, then we cannot do anything tangible in 2019 general elections" he said.
George appealed to all members of the party to avoid the in-house fighting that had been dividing members of the party.
Source: Naija News