Super Eagles crash in latest FIFA rankings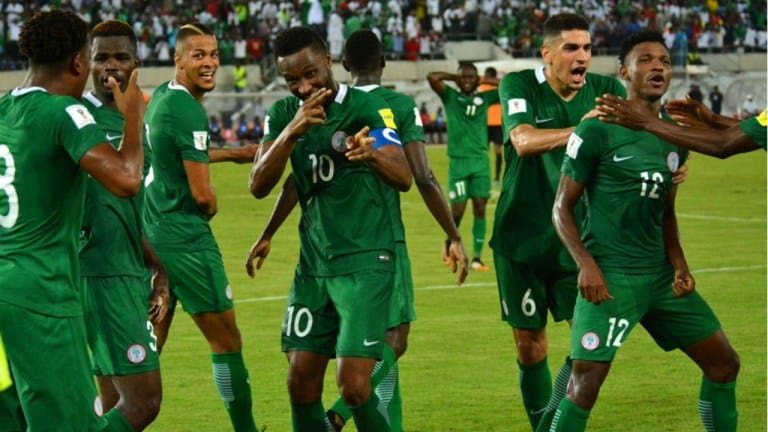 -Super Eagles slump in latest FIFA rankings despite impressive results in the month under review.
-The team is now ranked 8th in Africa and 50th in the World.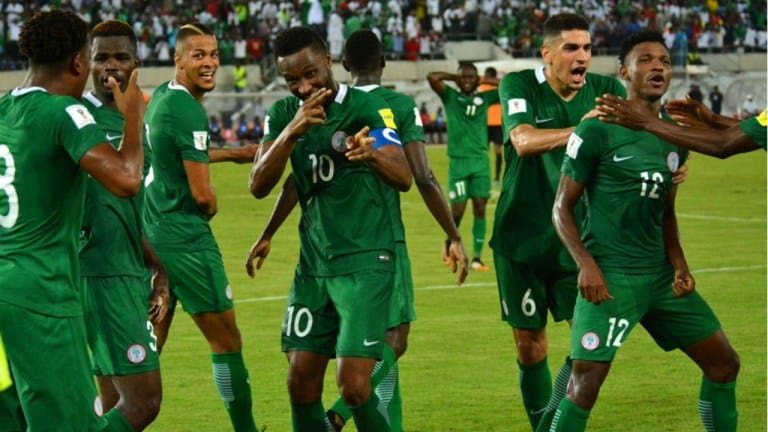 Nigeria drop to 50th position in latest FIFA rankings.
The Super Eagles of Nigeria have dropped down to 50th position in world ranking according to latest results released by FIFA on Thursday, November 23.
The Eagles also dropped to eighth position in the African rankings.
Despite securing a 4-2 comeback win over Argentina in a grade A FIFA recognized friendly game, and playing out a 1-1 away draw against Algeria in their last game of the 2018 FIFA world cup qualifying games, the Super Eagles of Nigeria have still dropped nine places in the new FIFA Ranking.
In the previous month, the team occupied 5th position in Africa and 41st position in the world.
In the month under review, the Super Eagles finished top of their world cup qualifying group with a 1-1 draw away at Algeria and also defeated Argentina 4-2 in a friendly game played in Russia four days later.
Despite this win, the Super Eagles dropped nine places in the November FIFA Ranking from 41 to 50. They also dropped in the African Ranking from 5th to 8th.
READ ALSO: Super Eagles and NFF sign money agreement ahead Russia 2018
The current ranking will however, not be used for the 2018 FIFA World Cup Draw which will hold on Friday, December 1 which sees the Eagles in pot 4 having been ranked 22nd of the 32 teams that qualified for the World cup tournament in Russia next year.
The top ten African teams according to the latest ranking are :
(1) Senegal (2) Tunisia (3) Egypt (4) Congo DR (5) Morocco (6) Burkina Faso (7) Cameroon (8) Nigeria (9) Ghana (10) Côte d'Ivoire
Of the top ten teams in Africa, only Nigeria, Egypt, Tunisia, Morocco and Senegal were able to secure qualification for the Russia 2018 World cup games.
In the World rankings, the top 5 remain unchanged,  Spain and Switzerland climb to sixth and eighth respectively, Poland are in seventh while France and Chile make up the top 10.
(1) Germany (2) Brazil (3) Portugal (4) Argentina (5) Belgium (6) Spain (7) Poland (8) Switzerland (9) France (10) Peru.