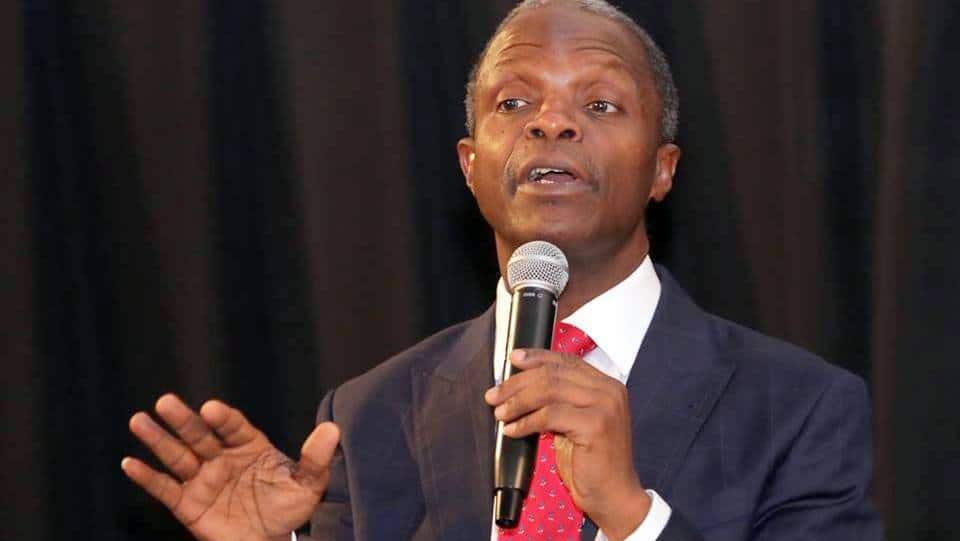 The Federal Government has disclosed that plans have been completed to recruit 300, 000 unemployed graduates for the second phase of its N-Power programme.
Nigeria's Vice President, Yemi Osinbajo revealed this on Tuesday, in Ilorin, the capital of Kwara State.
Prof. Osinbajo made the announcement during the launch of the Kwara state branch of the Government Enterprising and Empowerment Programme (GEEP) and MSME One-Stop Shop programmes created by the federal government in partnership with the Bank of Industry for traders, artisans and other medium and small-scale business operators
The VicePresident disclosed that the 300,000 graduates would be employed to round off the beneficiaries  to 500,000 persons,  having earlier recruited 200,000 graduates.
The professor stated that the government initiated the idea of the GEEP and MSME One-Stop Shop programme to ease access to loan for small or medim-scale businesses, so they can effectively operate.
READ ALSO: Three Shot Dead in Lafiagi, Kwara State
Speaking further, Osinbajo noted that the One-Stop Short facility would make available, services of regulatory agencies like National Agency for Food, Drug Administration and Control as explained that the facility would function as a centre for making enquiries on manufacturing and operation of enterprises.
The Vice President reassured that the President Muhammadu Buhari led administration is dedicated to empowering Nigerian youths, whom he described as the most vibrant worldwide.
Hinting that over 300,000 loans have already been disbursed through the GEEP scheme, Osinbajo said the Federal Government's aim is reaching one million beneficiaries across the country.
According to Osinbajo,, "With GEEP market money, the idea is to be able to give to at least a million people market women and artisians, some type of credit thatwill assist them in their business. It is not free money. It money for business, we expect it, paid back as you go along so that we can give you more credit and we can expand the credit base."
Consequently, he commended Kwara government for developing small and medium-scale programme, adding that the state of harmony, is one of those where the programme is most promoted in Nigeria.
In his address, Governor Ahmed applauded the Federal Government for  enhancing the welfare of the citizenry through the programme and advised traders artisans and others that may benefit from the programme in the state in the state make use of the opportunity judiciously.