Ekiti Govt declares death penalty for cult members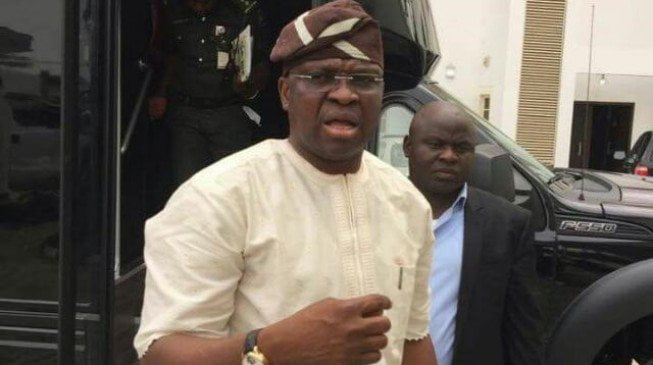 Ekiti Govt passes death penalty law on cult members.
A bill which bans secret cults, terrorism, has been passed into law in Ekiti state.
The bill which assented by the Governor of the State, Ayodele Fayose, at the Government House in Ado-Ekiti, was passed into law on Monday, 2oth November, 2107.
The bill states that any person caught in the act will get death sentence.
While passing the bill, Fayose said the signing confirmed his administration's unflinching determination to tackle terrorism in the state.
Meanwhile, in a statement issued by his Chief Press Secretary, Mr. Idowu Adelusi, Governor Fayose expressed his displeasure at the resurfacing of terrorism in Ekiti, particularly among students in institutions of higher learning.
He said, "From now, any person who is a member of a secret cult, whether or not the person is in possession or in control of any offensive weapon but commits the offence, is liable to conviction to death.
READ ALSO: Joining APC is like leaving Jesus Christ for Satan – Gov. Fayose
"Any person who gives financial or material support or assistance to a secret cult or, in any manner, sponsor activities of a secret cult, commits an offence under this law and is liable or conviction to imprisonment for life."
Also contained in the statement, Fayose declared that anyone who aids the convening secret cult meetings or activities in places such as houses, night clubs, hotels and other residential areas would be sentenced to life imprisonment.
The governor further stated that buildings where any cult-related activity are organized would be forfeited to the state government, while the owner of such structure would be sentenced to five years imprisonment, without an option of fine.
The Ekiti State helmsman, who re-emphasised his administration's zero tolerance for cultism and terrorism, said lives and property of the people would continue to be protected.
Three students of Ekiti State University, Ado-Ekiti, were killed within 10 days, in attacks suspected to be related to rivalry among cult groups.