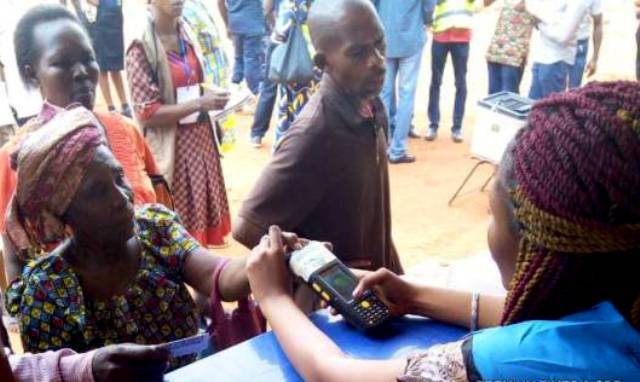 Voting has commenced in several polling units in Anambra State as the governorship election gets underway amid heavy security presence.
Reports from journalists on ground as well as civil society groups monitoring the process indicate that everything is moving smoothly without any hitches.
Voters have turned out to exercise their constitutional responsibilities despite the threat by the proscribed Indigenous People of Biafra (IPOB) to deal with anyone who comes out to vote.
However, there appears to be certain areas where business activities are going on as usual with local petty traders displaying their wares and commercial motorcycle operators going about their usual business.
There have also been some cases of soldiers being a little too harsh with voters who were on their way to their respective polling units.
"The army are conducting a thorough stop and search, they even asked people to go back in some case, I just managed to come out", Ifeanyi Okoro, a voter, told journalists.
Also, in some polling stations, there were reported malfunctioning of the smart card readers.
"There are many cases of verification failure in the ward 1, polling unit 002, 003, 004 at All Saints primary school Onitsha. Voters are complaining about the delays," reports Premium Times, whose correspondents are live in several polling stations across Anambra State.
"Card reader not working at Bishop Patterson Junior Seminary Mbosi Ward 20, Polling unit 004. Incidence form is being used," another update read.
Journalists also report that some people were being paid to vote for various candidates.
"A voter said… so far the money has been good. He refused to state how much he was given. Another voter is seen showing a man his hand and insisting he has voted for APC," Premium Times reports.
Read this also: Al-Makura: I'm the only governor who can't hear when things are being said
The governorship election in Anambra State will be keenly contested between four major candidates.
They are: Willie Obiano, the current Governor who is running for a second term in office under the All Progressives Grand Alliance (APGA).
Then Oseloka Obaze of the Peoples Democratic Party (PDP). Obaze is strongly backed by Peter Obi, former Governor of Anambra State, who still commands enormous followership in the State.
There is also Tony Nwoye of the All Progressives Congress (APC), whose candidacy has been endorsed by President Muhammadu Buhari himself, who attended his final campaign in Awka on Tuesday. Nwoye was the candidate of the PDP in the last election.
Osita Chidoka, former Corps Marshall of the Federal Road Safety Corps (FRSC) and former Minister of Aviation, is also a strong candidate.
Chidoka, who flies the flag of the United Peoples Party (UPP), was adjudged the winner of the electoral debate organized by Channels Television for the contestants in the election.
His younger brother is a member of the House of Representatives under the PDP. It is left to be seen whether the younger Chidoka, who has remained very silent since the campaigns began, would put party loyalty over family ties when he goes out to vote on Saturday.
There is also Yul Edochie, a Nollywood super star and son of Pete Edochie, a veteran actor. He is, however, not considered a very strong candidate.
There is also Godwin Ezeemo, candidate of the Progressive Peoples Alliance (PPA), who has contested for the Anambra governorship post several times.
The Independent National Electoral Commission (INEC) is expected to announce the election result by Saturday evening or Sunday morning.
Source: Naija News