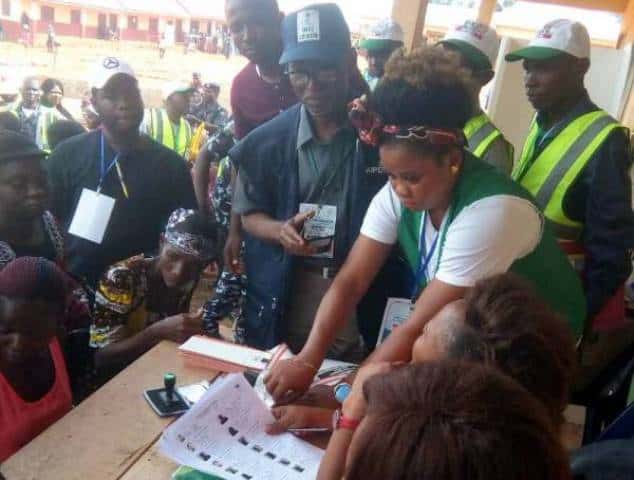 Reports from journalists and civil society groups monitoring the ongoing Anambra governorship election indicate that smart card readers deployed by the Independent National Electoral Commission (INEC) are malfunctioning in several polling centres.
The election observers also report that many political parties offered money and food to voters in exchange for votes.
Also, Willie Obiano, the current Governor of Anambra State, who is running for a second term in office, was said to have addressed voters after he had cast his vote, an action which is tantamount to campaigning.
The electoral act stipulates that all forms of campaign must stop 24 hours to the day of voting.
Abiola Akiyode, a member of the Transition Monitoring Group, witnessed the incident and described it thus: "The most worrisome aspect (of this election) is that the governor came with a microphone to address the people.
"I think it is a sort of campaign. Since I have been observing, I have never seen any governor go to that extent to talk to people on election day.
"I think he should have avoided the temptation even if people are pushing him to do something", she said.
"What he spoke about is a sort of campaign, saying that at the end of the day he would have cause to be happy. I think these are not things one should expect on election day."
It was also reported that the card reader could not read Obiano's fingerprints but it authenticated his voter card, so he had to resort to manual accreditation.
Also, many polling unit, including the one at Central School Onosi, Idemili North LGA, which is the polling unit of Osita Chidoka, one of the contestants in the election, electoral materials arrived late.
"I hope the late arrival would be taken into account in considering when the election would end," Chidoka told Premium Times.
"We are also awaiting reports from our situation room to find out if the same thing was experienced across the state."
At St Lous Catholic Church, Uruagu which also serves as Uruagu Ward 2, INEC officials arrived at 10.30 am, more than two hours late. Accreditation was supposed to kick off by 8 am.
Source: Naija News