Gov El-Rufai reacts to Gov Fayose's claim on sack of teachers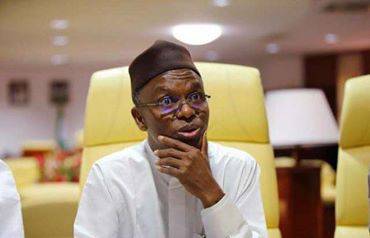 El Rufai responds to Fayose's assertions on his move to sack teachers.
Kaduna State Governor, Nasir El-Rufai has reacted to Ekiti State Governor Ayodele Fayose's claim that he plans to sack the over 21,000 teachers who failed the competency test in Kaduna because it was APC's  policy to retrench workers after promising to create more jobs for Nigerians.
Reacting to the claim via his Twitter handle, El Rufai said his government is replacing the unqualified people not sacking teachers.
Read also: Fayose can be likened to the biblical Pharaoh – APC
Fayose said he's embarking on this move in a bid to save the future of the next generation.
"Your excellency sir, we are not sacking teachers in kaduna, rather we are replacing unqualified people who are unfit to be called teachers to save the future of next generation," El Rufai tweeted.
Fayose had on Monday in a statement, condemned President Muhammadu Buhari for backing El Rufai's plan to sack teachers in Kaduna, saying:
"Not minding the State's inability to pay salary as at when due, owing to paucity of fund, I will not sack any worker under any guise."
"By openly supporting the sack of about 22,000 teachers in Kaduna State, President Buhari has approved loss of jobs as the official policy of the All Progressives Congress (APC) instead of creation of three million jobs per year that the party promised Nigerians."
"Here in Ekiti State, the immediate past APC government used competency test to demote many secondary school principals, vice principals and primary school head teachers, leading to sudden death of many of them. The government then tried to force the competency test on the teachers but they resisted.
Read also: Fayose slams Buhari, says President runs a "chop-I-chop" administration
"Today, students in Ekiti State are still being taught by the same teachers that the APC government said were not competent and the students were the ones whose performance gave the State first position in NECO in 2016 and 2017. The State also moved from 26 percent performance in the West African Examination Council (WAEC) examination in 2014 to 36.5 percent in 2015, 42 percent in 2016 and 74.86 percent in 2017.
"Therefore, instead of hiding under competency test to sack teachers, the APC government both at States and federal government levels should come to Ekiti State and learn how we were able to get optimum performance from the same set of teachers the immediate past APC government in the State labeled incompetent and harassed with competency test."
While declaring that it was not the right of any state government to set exams for teachers, Governor Fayose added, "The Teachers Registration Council of Nigeria was set up for the purpose of regulating the teaching profession in Nigeria."