2019 Election: God orders me to contest again – Gov Ortom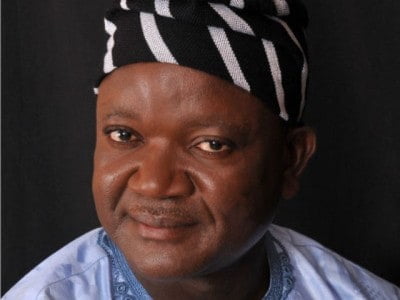 Governor Ortom says God has directed him to re-contest.
Benue state Governor, Samuel Ortom, said on Thursday that God has given him divine mandate to re-contest for the 2019 election.
The governor revealed this after series of pressures mounted on him to seek re-election in 2019.
He said he had decided to take the people's wishes to God who had also directed him to heed their voice and re-contest.
He made the announcement when some party members from 13 local government areas of the state visited him and endorsed him for second term.
Read also: Anambra Election: APC dismisses speculations to rig election
"I accept your endorsement. I'm more committed now than before to offer service to the people. The endorsement has encouraged me, because the voice of the people is the voice of God.
"After pressure from people to contest in 2019, I decided to seek divine directive, God told me to hearken to the voice of the people. On this note, I have agreed to make myself available and will contest in 2019, " he said.
Information obtained by Punch says that Ortom had informed youths in August across the state who called on him to declare his second term ambition that he would await divine direction before his declaration, adding that he would begin to pray by the end of 2016 to seek divine direction.
Read also: Aisha Buhari scheduled to visit Gombe
The governor said if God directed him to seek re-election, he would go ahead, but if otherwise, he would return to his farm and business.
Governor Ortom added he would do everything possible to pay the salary arrears of Benue workers, who were being owed for several months.
The people therefore, said Governor Ortom was the best candidate and listed the re-opening of Benue State University and graduation of more than 150 medical doctors, reconstruction of the schools of nursing and midwifery, ongoing face lift of over 700 primary schools, and implementation of minimum wage for primary school teachers as justification for the endorsement.