Fraud! Court orders Actor Jim Iyke to pay N15.7m debt to Habiba Abubakar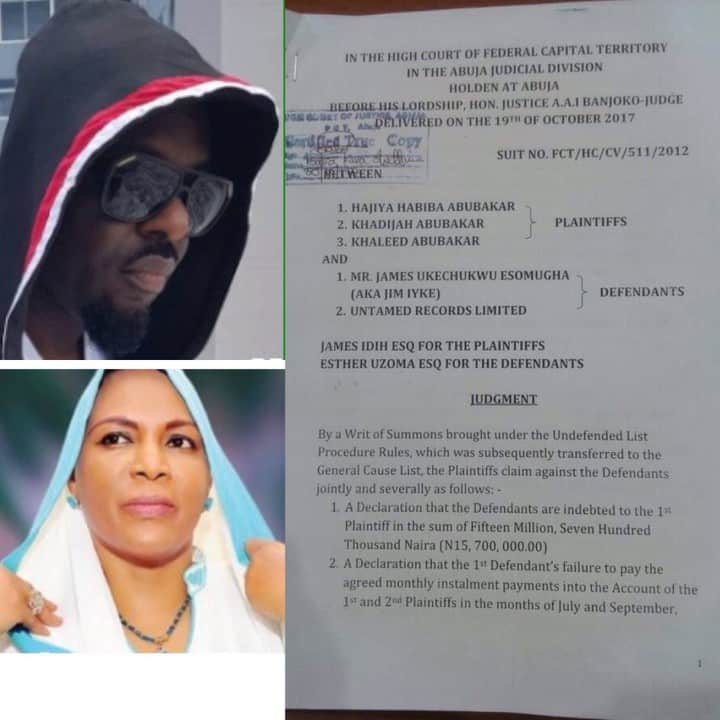 Jim Iyke to pay 15 million naira debt to Habiba Abubakar.
Justice Adebukola Banjoko of the High Court in Gudu, Abuja has ordered popular Nollywood actor James Ukechukwu Esomugha, aka Jim Iyke to pay the sum of N15.7million to a Nigerian socialite and philanthropist Hajiya Habiba Abubakar after she accused him of defrauding her.
Naija News gathered that the plaintiffs, Hajiya Habiba Abubakar, Khadijah Abubakar and Khaleed Abubakar had sued the actor to court for fraud allegations.
It was learnt that he was charged with criminal breach of trust, criminal force, assault, cheating and criminal misappropriation contrary to sections 312, 265, 322, 397 and 309 of the Penal Code.
Information obtained by TheNigeriaLawyer says Habiba Abubakar who is a financial investor had alleged she had invested N16.5million in Untamed Records Limited, a company in-cooperated by Jim Iyke to promote his artistic works after solicitation by Jim Iyke, adding that Jim Iyke used fraudulent means and acquired 15 per cent equity shares of a music company, Untamed Records Ltd.
Abubakar said she made the investment on behalf of her children both listed as 2&3 plaintiffs in order to secure their educational future said that she made various financial payments and transfer to Untamed Records Ltd.
Read also: Tonto Dikeh reveals plans to drag estranged husband, Churchill to court (Video)
She therefore prayed the court to declare that the 1&2 defendants are indebted to all the plaintiffs in the sum of N15.7million, and also prayed that failure to pay the agreed monthly instalment payments into the accounts of the plaintiffs negates the Debts Repayment Agreement and thereby terminated it.
Justice Banjoko therefore, in her verdict ordered Jim Iyke to pay the sum of N15.7million calculated at the interest rate of 5% from October 1,2012, to the day of the judgement of the court.
She also made an order for interest on the total amount outstanding, N15.7million calculated at the interest rate of 10% from the day of the judgement until final liquidation of the amount and awarded cost for the action of the suit in the sum of N500,000 against the defendants.