Residents embark on one million march to support anti-open grazing law in Benue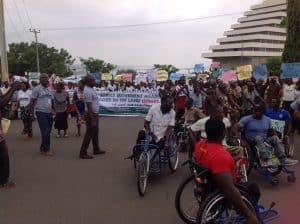 A One Million men peaceful demonstration on the streets of Makurdi, the Benue State capital, has been carried on Tuesday morning.
The march was embarked upon to support the implementation of the Anti-Open Grazing Prohibition law set to begin, on Wednesday, 1st november.
The walk began at the well known Wurukum Roundabouts accompanied by tight security.
READ ALSO: Policeman attacks immigration officer in Benue
The walk was organized by the Strict Movement Against Ravages in Tiv Land (SMART-LAND).
The protesters have also been to the state House of Assembly.
Source: Naija News