NYSC releases details and timetable for online registration of Batch 'B' 2017 corp members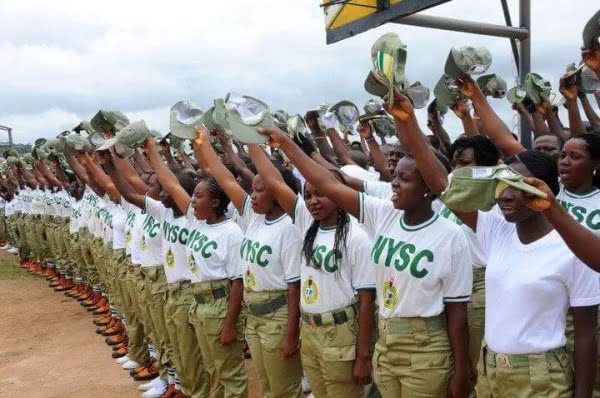 The National Youth Service Corps, NYSC, has released details of Online registration for 2017 Batch 'B' corps members to begin on October 24, 2017.
The timetable released by the scheme stated that the online registration for foreign and locally trained graduates will begin on October 24.
It also stated that prospective corps members will be able to print their call-up letters from Nov 13.
Read also: Misau to address Senate Panel on Tuesday
However, the date when the orientation exercise will begin was not included.
The mobilization details therefore include:
1. Briefing/Sensitization of Final year students/prospective corps Members from 12th Oct to 10th Nov 2017
2. Display of list of all approved programmes for institutions on NYSC portal for cross checking and feedback from 12th to 15th Oct. 2017
3. Collation of Prospective Corps Members' Data by Corps Producing Institutions CPIs from 12th to 15th Oct. 2017
4. Uploading of Senate/Academic Board Approved Results for Full/Part-Time Graduates and Revalidation Lists by CPIs from 16th to 21st Oct. 2017
5. Submission of Senate/Academic Board Approved Results for Full/Part-Time Graduates and Revalidation Lists by CPIs from 20th to 23rd Oct. 2017
6. On-line Registration by Foreign and locally Trained Nigerian Graduates from 24th October to 12th November 2017
7. Entertainment of complaints from Prospective Corps Members by the state Deployment and Relocation officers and NYSC Help Lines/Desks officers from 23rd October to 12th November 2017
8. Forwarding of Complaints to Mobilisation Dept by State Deployment and Relocation officers from 23rd October to 12th November 2017
9. Deployment and Printing of Call-up Letters by ICT Department from 13th to 17th Nov, 2017
10. Notification/On-line Printing of Call-up Letters/Delivery of Call-up letters to Institutions (stream I) from 17th to 20th Nov, 2017
11. Online Printing of Deployment Disposition by Corps Producing Institutions (CPIs) from 18th to 21st Nov, 2017
12. 2017 Batch 'B' Orientation Course
Read also: Government shuts down fake NYSC camps, 21 illegal universities
Graduates are to visit the Nysc portal via www.nysc.org.ng for online registration and bio-metric data capture.
Here is a list of requirements that will qualify you for registration and mobilization.
1. Prospective Corps members should ensure that they have functional e-mail addresses that they can access and Nigerian (GSM) telephone numbers with which to register.
2. Locally trained prospective Corps members are expected to use correct Matriculation numbers to register
3. For locally-trained graduates, only those whose names appear in the Senate/Academic Board Approved Result lists submitted by their Institutions will have access to the register on the NYSC portal.
4. Foreign-trained prospective corps members should ensure that their Institutions are accredited. Where in doubt, it is their responsibility to approach Federal Ministry of Education for verification. The letter of verification must be uploaded during registration.
5. Those who graduated from Institutions outside Nigeria, (Foreign-trained graduates), are to visit the NYSC portal, register and upload the following documents:
1. West African School Certificate (WASC) (with not less than 5 Credits at 2 sittings) or its equivalent; or General Certificate of Education (GCE O' Level) (with not less than 5 Credits at 2 sittings) or its equivalent; or NECO (with not less than 5 Credits at 2 sittings) or its equivalent; or High School Diploma or its equivalent.
2. First Degree or Higher National Diploma (HND) Certificate (Second Degree or Ph.D not necessary).
3. Transcript of the first Degree or HND.
4. International travelling Passport showing data page and date of departure for the course of study.
6. It is the responsibility of the prospective corps members who studied in non-English speaking countries to get their Certificates and Transcripts translated into English language before uploading.
7. All graduates of Medicine, Veterinary Medicine, Physiotheraphy, Radiology, Optometry, Medical Laboratory Science and Pharmacy are expected to have their Certificates of Registration with their professional bodies. Payment receipts are not acceptable.
8. Unlike in the past, Foreign-trained graduates should NOT visit NYSC Headquarters, Abuja for verification of their documents. This exercise will now be done at the Orientation Camps. They should simply print their call-up letters on-line and report at the Orientation camps in their States of deployment, but should come to the camp with the original documents they uploaded for verification.
9. Anybody who presents any fake document will be demobilized and decamped.
10. Prospective corps members should ensure that Passport photographs used meet the following specifications:
1. Ensure your face (eyes, nose, ears, mouth and jaw) is fully shown without bending
2. Ensure the picture fills the frame and centralized
3. Ensure the Photo background is white or off-white with no shadow.
11. On no account should prospective corps members register by PROXY. They should also remember the fingers used for their biometric capturing as these will be used for verification at the orientation camps. Those who cannot be verified with their biometric at the orientation camp will not be registered.
12. Only prospective corps members who want their call-up numbers sent to them through SMS and wish to PRINT their call-up letters on-line are expected to pay (see NYSC Portal on how to make payment).
13. Prospective Corps members, who do not want to pay, have the option of going to their schools to collect their call-up numbers and call-up letters.
14. All prospective corps members who paid for the online registration before but were not mobilized need not pay again.
15. Married female prospective corps members (whether locally or foreign-trained) should upload copies of their marriage Certificates, evidence of Change of name and their husbands' place of domicile during registration.
16. The orientation camp is highly not ideal for pregnant and nursing mothers. Prospective corps members in this category are therefore to note that they will not be accommodated.