2019 Election: Buhari is Nigeria's most credible candidate – Gov Ortom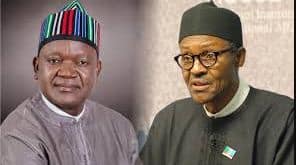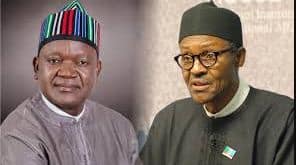 Benue State Governor, Samuel Ortom says President Muhammadu Buhari is the most suitable candidate for the 2019 Presidential election and he deserves to be re-elected to paddle the canoe of Nigeria up till 2023.
The governor, who disclosed this to the State House correspondents after a closed door meeting with Mr. Buhari in the Presidential Villa, Abuja, on Tuesday, said there is no credible person capable of taking Nigeria out of its current challenges apart from President Buhari.
"I believe that what God brought him to achieve in this country he will definitely achieve it.
"Now we see him bouncing every day to the glory of God, we appreciate this and we look forward that God will help him to take us through 2015 to 2019 and then 2019 to 2023 – that is our prayer because for now there is no credible candidate as far as I know that has the capacity to take Nigeria out of where we are today. I believe that Mr President has the capacity, "Ortom said.
Read also: Tagbo: Police says Davido has no hand in his friend's death, Davido vindicated
Governor Ortom said he briefed Buhari about the ecological problem facing Benue state and his inability to pay workers outstanding salaries which was beyond his control.
He also dispelled reports that he diverted the bailout and Paris fund received by the state.
"It is not deliberate and we have not diverted money whether bail out or Paris club anywhere, the records are there for anyone to scrutinize and see. The situation is that I inherited N69 billion arrears on pensions, gratuities and salaries.
Read also: Dokpesi announces PDP chairmanship ambition, accuses Markafi of establishing APDA
"Then, over N70 billion contractual obligations and so it has been a huge burden on our finances and so Mr. President too has promised to find ways that the state can also get support.''
"We have said it especially when the leadership of the labour congress came and we dialogue and we have set up technical committees comprising technical team from labour congress and technical team from my government, they will look at it and review wage bill and ensure that leakages are eliminated, salary padding and ghost workers and all that.
"I want to assure you that we are going to prosecute anyone who is found culpable in the salary inflation. Honestly, N7.8 billion wage bill for Benue is out of place and there is no way we will continue in this manner.
Read also: Sukuk bond: Details of road projects to benefit from N100 billion
"We have looked at the wage bill and compare with what people are collecting elsewhere in the country and we have done to an average of N4.5 billion that we just have to review it to that,'' he added.
He revealed that the revenue generated by Benue State from the federal government and Internally Generated Revenue (IGR) stood at slightly above N6 billion.
"So, if you are paying salaries alone, you have a deficit of N1.8 billion a month. It is impossible and we have security issues to tackle and several other things that government must run and so it becomes a big problem,'' Ortom lamented.