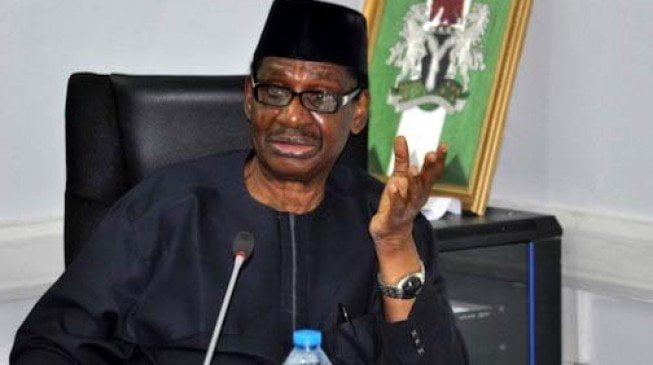 Professor Itse Sagay , the Chairman of the Presidential Advisory Committee on Anti-Corruption (PACAC), has condemned the Presidency for delaying its decision on the fate of the suspended Secretary to the Federal Government (SGF), Babachir Lawal, and Director-General of the National Intelligence Agency, Ayo Oke.
Describing as "much too slow", Sagay expressed his displeasure at the snail speed at which the federal government is indicting corrupt government officials during an interview with Channels Television.
However, he also expressed his hope in the Buhari-led administration, asserting that the present government is tackling corruption as it had promised.
Sagay said, "I have no doubt in my mind that the present government is actually fighting corruption in accordance with its mandate and promises. There is no question about that."
"But on the specific issue of the suspended Secretary to the Federal Government and the Director of the NIA, I would agree that action has been much too slow and there should be immediate decision on this matter so that we can put it to rest and move on. I agree with that," he added.
READ ALSO: Babachir Lawal, NIA DG Ayodele Oke remain suspended – Osinbajo
For Sagay, who believes the government is fighting corruption with "all its might and resources", there is no justification for such a view.
The professor added that he believed the federal government is fair in dealing with corruption, as no all who are suspected of corruption would be duely probed by the Economic and Finacial Crimes Commission.
He said, "I think there is an even-handed approach to the issue of fighting corruption. Everybody who is suspected of corruption or the commission of economic and financial crimes will be investigated and the EFCC and the ICPC who are the bodies who are invested with the authority to act in such matters will act in accordance with their own priority.
He clarified that all corruption cases cannot be handled at once.
"I think we should make it clear. We cannot handle all cases of corruption at the same time. As you know, in this country, cases of corruption go right from the top and permeate to the lowest level.
"So, there are hundreds of thousands of corruption cases. It makes sense for the agencies to choose what to pick and what to drop," he said.
Source: Naija News