Daddy Freeze, Bobrisky in heated verbal war
Male Barbie, Bobrisky and On Air personality, Daddy freeze, have recently lashed out at each other.
BobriSky was displeased with a conversation between Daddy Freeze and his two-year-old son and hence lambasted the OAP.
The quarrel began after Daddy Freeze posted the conversation which emanated after his son told him to stop wearing his mother's stiletoes and Freeze replied:"No, I won't, I'm not Bobrisky."
The post infuriated Bobrisky, making him lash back at the OAP  via his Snap Chat.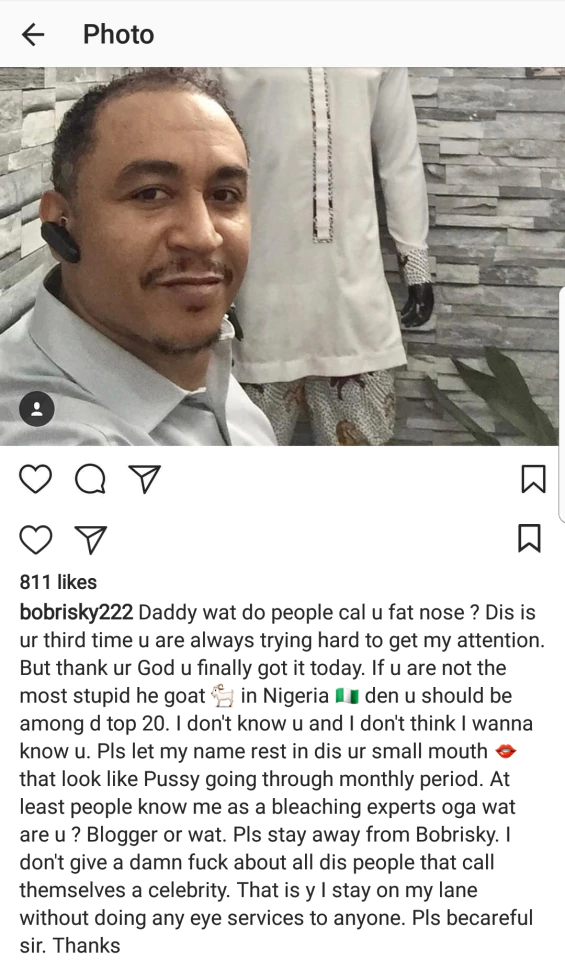 The male Barbie said, "Daddy, wat do people cal u fat nose? Dis is ur third time u are always trying hard to get my attention. But thank ur God u finally got it today.
"If u are not the most stupid he goat in Nigeria, den u should be among d top 20. I don't know u and I don't think I wanna know u.
READ ALSO: Actress Taiwo Aromokun finally reveals owner of new set of twins
"Pls let my name rest in dis ur small mouth that look like pussy going through monthly period. At least, people know me as a bleaching experts.
"Oga wat are u? Blogger or wat? Pls stay away from Bobrisky. I don't give a damn f**k about all dis people that call themselves a celebrity. That is y I stay on my lane without doing any eye services to anyone. Pls becareful sir. Thanks."
However, Daddy Freeze did not hesitate to fire back at the social media star, insulting Bob for his poor grammar.
"Look at this recycled tampon! Sponge Bob 'bleached brain' too is talking… Which one be Eye 'services' again o? Only Bob.
It's dingbat bae, who is probably a village school English teacher, or some other unhinged dingleberry could have composed that gangrenous pile.
I usually do not respond to inanimate objects, especially when they look like the contents of a sewage plant! However, just this once, I'll make an exception! – FRZ
#FantaFaceCokeBody
#LoWeJoo
#Oloorun
#FakeRolexClubMember."