Biafra: Protesters storm British High Commission, demand Kanu's extradition from UK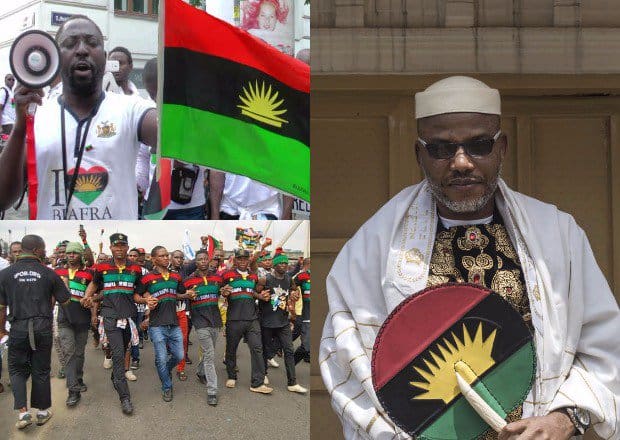 Over 1,000 persons staged a protest in Abuja, at the British High Commission to demand the extradition of the Indigenous People of Biafra's  leader, Nnamdu Kanu, back to Nigeria to face the law.
The protesters criticized the British Government saying that regardless of the undeniable evidence that Kanu is currently in the United Kingdom, the embassy is acting as though they were unaware of his presence in the UK.
Accusing the UK of assisting Kanu to flee, the organizers of the protest, Advocates of Social Justice For All (ASJA), asserted that it learnt the UK was involved in the IPOB leader's escape. The group added that the British government afterwards feigned ignorance on his whereabouts.
During the protest, the Executive Director of ASJA, Patriot Venatius Asongo, disclosed to journalists, his surprise that the United Kingdom was not bothered about her citizens spreading hate speech.
Asongo made references to IPOB members who allegedly burnt a police station and killed a policeman in Abia state, attacked innocent citizens in Delta state, among other inhumane atrocities.
READ ALSO: IPOB threatens to sue Orji Kalu, Buratai over Nnamdi Kanu's disappearance
The Director said,, "It is most Satanic of the UK to continue according Kanu celebrity treatment when it cannot condone its own equivalent of IPoB. National Action, NS131 and Scottish Dawn are proscribed as extremist groups in the UK even when they have committed a tenth of the atrocities IPOB has unleashed on helpless Nigerians.
There was a clampdown on members of National Action, NS131 and Scottish Dawn but no country has interfered in the UK's internal affairs and freedom to run its own business.
Yet, we are not allowed to promptly address a growing terror group among us when extremist groups are getting the sledgehammer treatment in London.
"We find this not only irresponsible but also an attempt to precipitate crisis in Nigeria and catalyst IPOB into something as ferocious as ISIS, which the UK was instrumental to creating and strengthening through its support for supporting terrorists against a country's government as it did in Syria.
"In our view, this calls for concern because it implies that the UK is desirous of plunging Nigeria into crisis so that it can again return as a colonial master.
"In the most shameful exposure of its duplicity yet, the United Kingdom that is sponsoring IPoB separatist terrorists against Nigeria had no words for the harsh riot police clampdown Catalonians in a bid to prevent them from holding a referendum that the government had declared illegal.
"As opposed to Nigeria's military, which observed rules of engagement in countering IPoB terrorists, in Spain the world was confronted with images of excessive use of force, brutalization that left 888 people injured in just one day.
READ ALSO: We don't want IPOB hurting themselves – Lauretta Onochie
"The United Kingdom was apparently blinded to this as it found nothing condemnable there since it cannot occupy Spain as a colony; Nigeria is fair game that the UK wants to conquer through Kanu."
"As we make this demand, may we also specify that the High Commission returns the fugitive terrorist alive; its request for a status update on Kanu flags its potential to kill or maim him for any possible set of objectives," Asongo added on behalf of the group.
Meanwhile, Naija News recollects that Former Abia State governor, Orji Uzor Kalu, had earlier alleged that Kanu absconded to London through Malaysia.
"Kanu was not taken away by the military. Kanu went to Malaysia from where he travelled to the United Kingdom," the ex governor had said.