IGP has 2 police lovers, has impregnated 1 – Senator Misau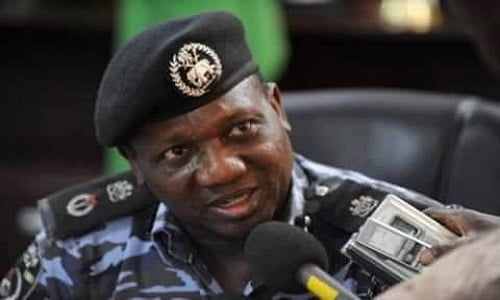 -Misau accuses IGP of awarding special promotion to lovers.
–IGP pockets N10 billion monthly
The Inspector General of Police, Ibrahim Idris, has been of having sexual relationship with two female police officers, by Senator Isa Misau.
Speaking during a plenary session on Wednesday, October 4, Misau alleged Idris of giving special promotions to the female officers as well as 'his boys'.
Misau had started off claiming that the IGP recently got married to one of the female officers whom the senator alleged Idris had impregnated.
He said, "The IG is openly having two relationships with police women which gave special promotion," Misau began.
"One of them is Amina and one of them is DSP Esther which the IG on 15th of last month got married to that woman DSP. Under police act and regulation, you cannot marry as serving woman police unless that woman retires.
"He quickly did a secret wedding in Kaduna because the lady is four months pregnant. I am saying this because of the institution – that institution I am supposed to be a stakeholder in that institution. It is the institution that brought me here which I'm proud of.
READ ALSO: JUST IN: Senate sets up committe to investigate corruption allegations in NNPC
The lawmaker added that the actions of the police boss, had negatively affected some of the police officers.
"There are serving police officers who now demoralized because of the activities of the office of the IGP. Mr President, even when it comes to appointment, the IG decided to have his own boys who are just assistant commissioner of police, he will give them special promotion, he said
He continued, "He will give them deputy commissioner of police he won't spend three months or six months he will just give them acting commissioners of police".
Misau mocked the police IG, saying he had not achieved any has not made any landmark since he was appointed as the police boss.
"Sometimes I laugh when I see the IG celebrating that he has arrested Evans, Evans was operating in Lagos openly until when he kidnapped somebody who jumped into somebody's house and went to report. This is an achievement of IG? This cannot be achievement of the IG. Even an ordinary person can do that," he said.
Meanwhile, Misau had recently accused the IGP of siphoning N10 billion funds  monthly.