Biafra: Buhari meets Igbo Senators over IPOB, Nnamdi Kanu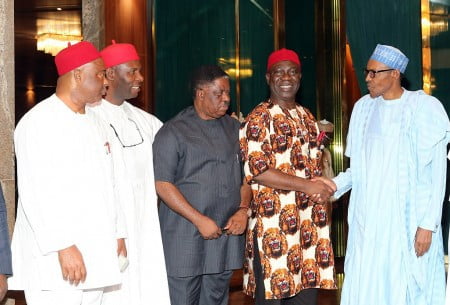 -Some South East senators met with President Buhari over IPOB, Nnamdi.
-They called for dialogue over issues affecting the region.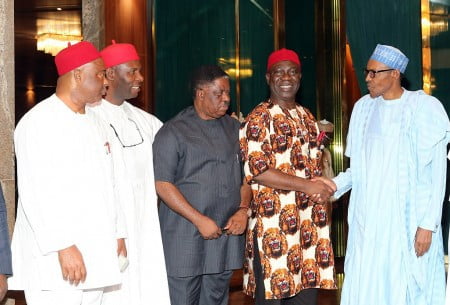 President Muhammadu Buhari on Tuesday held a meeting with South East Senators at the Presidential Villa in Abuja over the activities of the Indigenous People of Biafra, IPOB in the region.
The Senators, who were led by the Deputy Senate President, Senator Ike Ekweremadu.
Ekweremadu, while addressing the State House Correspondents said they discussed salient issues with the president affecting the South East zone and it was successful
Read also: Woman arraigned for stabbing husband to death
He reitrated that dialogue is the best option to address some of the issues affecting the region.
"For us from the South East, we believe that dialogue is better than any other form of engagement.
"So, we decided to visit the President and present to him some of the concerns of the South East including the issues of roads, general infrastructure; the rail, airports and others.
"We also discussed the issue of security with him and of course the issue of IPOB. We had a good conversation and he promised to look into the issues," he said.
The Chairman of the South East Senate Caucus, Eyinnaya Abaribe, also emphasized that the South East region they had a fruitful meeting with the president, stressing that the region has been shortchanged by the federal government.
Read also: Katsina State is not given special attention by President Buhari – Gov Masari
"This is the southeast caucus in the Senate and we came to see the president because of the issues we have in the southeast.
"We had a fruitful discussion with the President. He has promised us that he is going to look into the problems of southeast.
"We know that there are problems everywhere but we also believe that the South East is the zone that is far much shortchanged at this time than other zones.
"We also talked about the issue of appointments from the South East, especially with respect to the National Security Council. The President also told us that governors of the South East have also engaged him in the same problems we engaged him in.
"We are reassured with the response we got from the President and we look forward to further interaction with him in this manner," he said.