Saraki fails to reveal Senators' salaries, allowances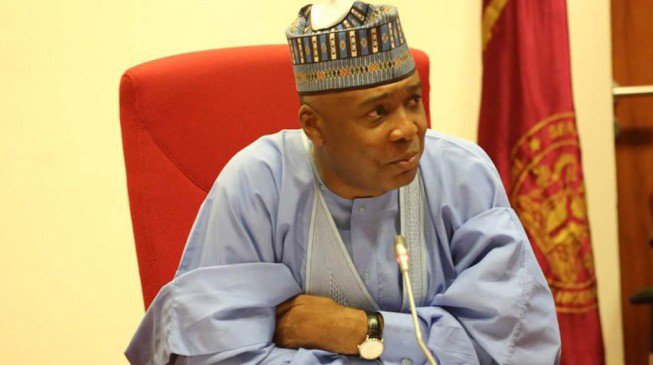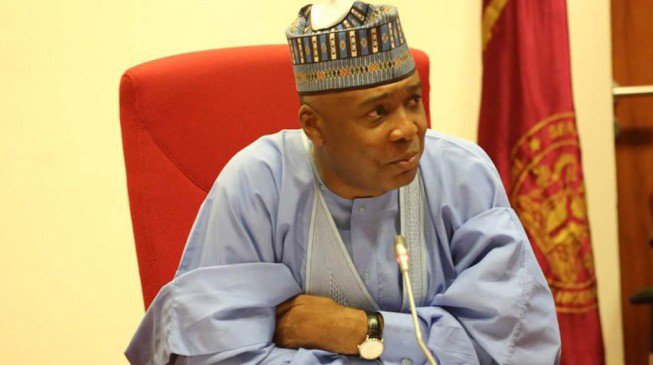 Senate President Bukola Saraki on Thursday disappointed many Nigerians by failing to disclose as promised, the amount the Nigerian senators receive annually.
There are controversies and speculations that the Nigerian senators receives N3b yearly.
Naija News had reported that Saraki on Tuesday invited some officials of the Socio-Economic Rights and Accountability Project (SERAP) to his Abuja office on Thursday to disclose the salaries and allowances earned by Nigerian senators following SERAP's letter to the senate president to disclose the annual income of the senators.
It would be recalled that Professor Sagay had alleged that a Nigerian Senator earns N29 million monthly. He therefore provided the details of the salaries and allowances as follows: basic salary N2,484,245.50; hardship allowance, 1,242, 122.70; constituency allowance N4, 968, 509.00; furniture allowance N7, 452, 736.50; newspaper allowance N1, 242, 122.70. Others are: Wardrobe allowance N621,061.37; recess allowance N248, 424.55; accommodation 4,968,509.00; utilities N828,081.83; domestic staff N1,863,184.12; entertainment N828,081.83; personal assistant N621,061.37; vehicle maintenance allowance N1,863,184.12; leave allowance N248,424.55; severance gratuity N7, 425,736.50; and motor vehicle allowance N9,936,982.00.
SERAP confirmed that the meeting was held yesterday with Saraki but he did not provide specific details of the salaries and allowances he and other lawmakers recieve.
Naija News gathered that Saraki referred them to the National Assembly website which only has indefinite and unclear information about the senators' payments.
Read also:Biafra: IPOB's activities risks the lives of 11.6m Igbos -Abia Gov.
SERAP deputy director, Timothy Adewale, speaking on the meeting with Saraki said: "While we appreciate the expressed commitment by Saraki to transparency and accountability of the National Assembly, and the rare opportunity to dialogue with him, we remain deeply concerned that the leadership of the Senate has unfortunately not satisfactorily addressed the damaging allegations by Professor Itse Sagay, Chairman Presidential Advisory Committee against Corruption (PACAC), that a Nigerian Senator gets N29 million in monthly pay, and over N3 billion a year."
"There is an apparent discrepancy in some areas between what Saraki said at the meeting and what the Senate is doing in practice to improve transparency of its operations and accountability of members. For example, the Senate President's response to Sagay's allegations was simply to refer SERAP to the National Assembly budget for 2017, which is available on its website. However, a careful study of the document shows that it contains only some general information and not specific details that respond directly to allegations raised by Sagay."
The statement read in part: "The meeting with Saraki raises more questions than it answers. The Senate budget on its website is incomplete. The absence of specific details on salaries and allowances of each senator not only makes analysis difficult, it also points to underlying weaknesses in monitoring and transparency mechanisms."
Read also: Biafra: IPOB, Nnamdi Kanu must challenge its proscription – Ubani
"Without including some level of details, Nigerians may see the published National Assembly budget as nothing more than window-dressing. SERAP hopes that the leadership of the Senate doesn't want this to be the case—and we certainly see no reason why it should be the case. As we have noted, improved transparency on the exact salaries and allowances of senators and indeed members of the House of Representatives is in the interests of all.
"In SERAP's view, rather than referring us to the seemingly incomplete National Assembly budget, the Senate President should have provided a line-by-line response to Sagay's allegations. It's important that the leadership of the Senate provides additional information that is lacking from the published budget if it is ever going to satisfactorily clear the air on the issues."
"Continuing failure and/or refusal to provide a line-by-line response to Sagay's allegations is counter-productive. Although the issues of transparency in the salaries and allowances of members of the National Assembly may seem like sensitive issues, they are exactly the kind of issues the Senate and House Representatives need to urgently address and clarify if Nigerians are ever to trust their lawmakers."
"As the 2017 National Assembly budget does not appear to record all allowances received by senators, it's in the best interest of the Senate to now publish a line-by-line response to Sagay's allegations rather than simply providing a blanket denial. If the Senate is disputing Sagay's figures on the salaries and allowances of its members it should at least provide what it considers to be the current amounts, including on 'hardship allowance'. One way the Senate can do this is by moving swiftly to publish details of senators' payslips and other relevant documents on the salaries and allowances of members for Nigerians to compare and judge."
Read also: President Buhari to leave London for Nigeria on Monday
"In addition, we agree with the Senate President that there are corruption issues within the executive that need to be fully and effectively addressed. But the reality of corruption in the executive branch of government doesn't mean that allegations of corruption in the National Assembly especially as they relate to budget padding and constituency projects, should be minimized or ignored. The leadership of the Senate should have provided examples of how the Senate is preventing corruption in the budget process and initiatives like constituency projects rather than shifting the blame as to why corruption is so pervasive in the implementation of such projects."
"Further, the Senate President's call on Nigerians to report to the Senate allegations of corruption that directly affect them or which they witness, is warmly welcomed. We hope the Senate will keep to its promise on this, and that reports of corruption cases that Nigerians bring to it will be objectively, fairly and effectively addressed and that any such process is completely transparent. However, citizens may not have the trust and confidence to embrace the Senate Anti-Corruption Reporting Mechanism until the leadership satisfactorily addresses the lingering doubts on the exact salaries and allowances of its members."
"The National Assembly is in a uniquely strong position to act as a catalyst in the fight against corruption. But the rhetoric of the leadership of the Senate on transparency and accountability needs to be matched by reality."