Biafra: IPOB receives fund from France – FG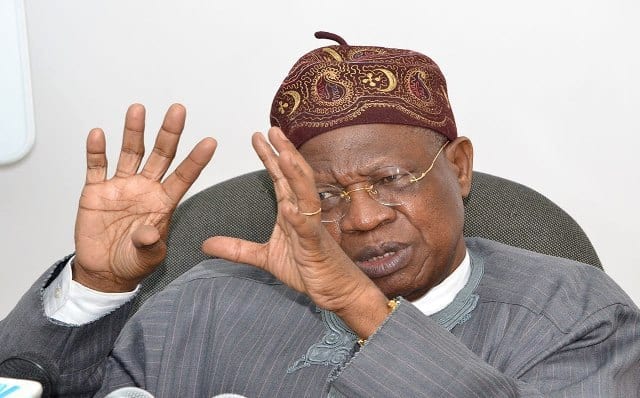 The federal government, on Wednesday, alleged that the separatist group, the Indigenous People of Biafra (IPOB) was being financed from France, aside collecting funds from treasury looters in Nigeria.
This was said by the Minister of Information and Culture, Lai Mohammed, during an interview with State House correspondents after the Federal Executive Council Meeting at the Presidential Villa, Abuja.
The minister said, "We have the records, we know IPOB collects money from many people in diaspora. They collect money from many people in Nigeria, they collect money from some foreign countries, this is clear.
"Let me tell you, the financial headquarters is in France, we know. But you see, can you, as a government, stop people sending money to their parents? You have to block the sources of finance; that is what I said recently.
Read also: Buhari grants commencement of IPOB proscription
"It is incontrovertible that some people in diaspora contribute money to IPOB. Where does he get his money from? We know this as a fact."
He said the federal government sought for collaboration with foreign governments as part of the measures taken by the government to tackle IPOB before deploying soldiers to the South-east region of the country.
However, Mr. Mohammed said, reaching for foreign collaboration was not always successful. He therefore, gave an instance, where the federal government asked the United Kingdom to shut down Radio Biafra in London from where Nnmadi Kanu, IPOB leader was transmitting fake news, but the UK Government rejected the request in order to protect freedom of expression.
He said, "In tackling IPOB again, there are a few very naughty diplomatic issues which you need to skip. For instance, who does not know that the IPOB international radio is located in London? We know the diplomatic moves we have been taking and approaching the UK and all the damage it (Radio Biafra) has done but they don't see it that way; for them, it is about freedom of expression."
Read also: Court grants injunction proscribing IPOB
The minister argued that IPOB is a terrorist organisation, saying that Kanu was caught on video in London in 2015 soliciting funds for weapons and ammunition.
"I think anybody, who has watched Nnamdi Kanu's videos, knows that anywhere he goes, he openly solicits arms and funds. I have a lot of quotations from him as to the violent nature of IPOB. In one of his videos, he said if he was arrested, his boys should burn down the country," he said.
Meanwhile, a Non-Governmental Organisation, Project Nigeria First, has declared support for efforts intensified by the federal government to ensure ordeliness in the South-East.
The National Coordinator of the group, Mr. Uche Nwabukwu, who disclosed this in Abuja on Wednesday in a media briefing, said the the activities of IPOB would have led to pandemonium and disorderliness in the country if not for the prompt intervention of government at the federal and state levels in the South-East.