Biafra: IPOB Members Burn A Mosque In Enugu
Men believed to be members of the Indigenous People of Biafra, IPOB, have burnt a mosque in Enugu State.
Naija News learnt reports that the incident, which occurred at Ogrute, the capital of Igbo-Eze North Local Government Area of Enugu State, has left the residents leaving in fear.
One of the Muslim faithful, who spoke to news men said the attack was carried out early Saturday morning.
"I was sleeping in my house when I started hearing some explosive sounds. I reside very close to the mosque.
"As I rushed out, I saw thick smoke billowing from the mosque. The fire was too much; it was burning from every corner of the mosque," he said.
Asked whether the inferno could have been from power surge, he retorted: "nothing like power surge in this matter. The entire local government has no light for several months now.
"There has been a problem between the Enugu Electricity Distribution Company, EEDC and Ikem community in Isi-Uzo, and this has disrupted power supply for several months. Prior to that, we don't even have light here; we were cut off as we couldn't pay high electricity bill.
"We have the belief that it was carried out by IPOB supporters because they have done similar thing in other parts of the South-East since their confrontation with the Nigerian Military began last Monday."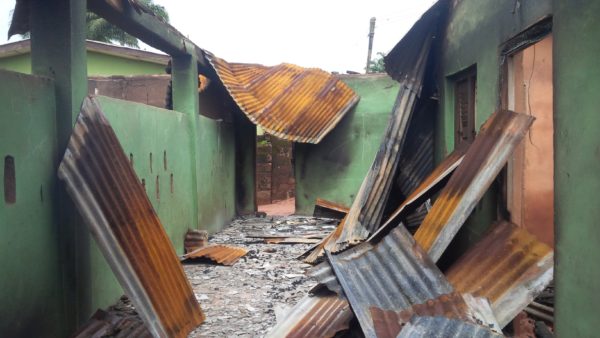 Meanwhile, the Chief Imam of the Mosque, who confirmed the incident to DAILY POST, lamented that, "we lost all our items to this unprovoked attack.
"From our observation, they brought everything together, including our garments, Holy book, generators, and made sure they all burnt to ashes together with the mosque.
"This is so strange and provocative as we were not having problem with anybody prior to this incident. I'm from this community, just like so many of my members.
"We have been living together with our people peacefully. So, this attack is something we cannot explain."
While lamenting that their lives were now at stake, they called on the Enugu State Government and the security agencies to intervene.
Also confirming the incident, the Police Police Relations Officer of the Enugu State Police Command, SP Ebere Amaraizu told DAILY POST that "it is true that there was an incident. It occurred around 2am.
"But for now, we are working to reveal identities of those behind the attack. We cannot categorically say that it's Mr A or B.
"We are one, regardless of religious background and people must stop taking laws into their hands.
"The situation is under control, our men are on ground to maintain law and order."
It was learnt that Governor Ifeanyi Ugwuanyi has visited the area.
Ugwuanyi donated the sum of N1million for rebuilding of the mosque.