Nnamdi Kanu's whereabouts unknown as soldiers storm his residence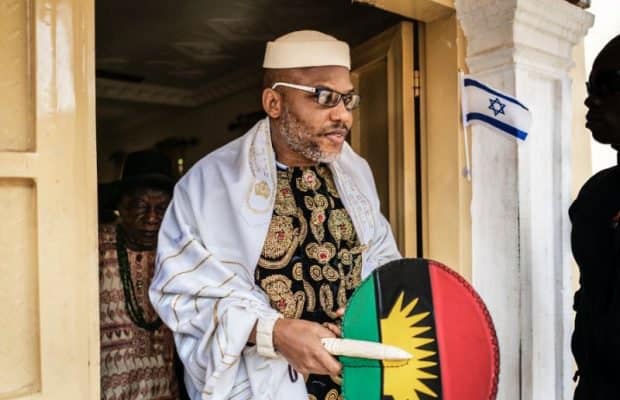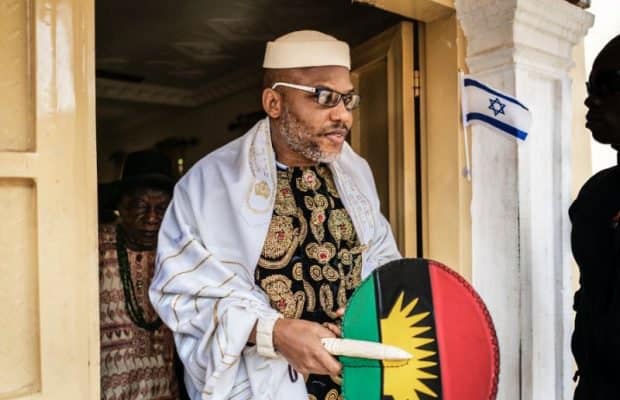 Soldiers, yesterday, reportedly stormed the Afara Ukwu, Umuahia country home of IPOB leader, Nnamdi Kanu, allegedly killing 22 of his members and arrested 18 others. Even the whereabouts of Kanu is said to be unknown.
Kanu's younger brother, Emmanuel, said soldiers numbering over 150 and some mobile policemen stormed their residence at about 5:30pm, condoned off their father's palace and shot sporadically for over one hour. After breaking into the compound, the troops again opened fire on whoever was on sight, he claimed.
Emmanuel revealed the casualties from the shooting included over, 22 IPOB and family members as well as the family dog.
READ ALSO: We are not pulling out of Abia State – Army
He said. "You recall that Nnamdi Kanu had told the world just yesterday that the Nigerian government is plotting to kill him on September 15, but they struck a day before their planned date. But we thank God they did not succeed and will never succeed," Emmanuel told Daily Sun on telephone but refused to disclose his whereabouts.
He further stated that after shooting and killing the IPOB members, the soldiers in company with the mobile policemen desecrated their father's palace by ransacking the place but he did not say if they took away anything.
Unconfirmed report had it that the 70-year-old father of the IPOB leader who is also the traditional ruler of Afara Ukwu, Eze Isaac Okwu Kanu, was allegedly whisked away by troops.
When contacted, the deputy director, Army Public Relations, 82 Division, Enugu, Col. Sagir Musa denied knowledge of the invasion. "I'm on the road, coming from monitoring conducts of our troops, so, I cannot confirm whether the allegation is true or not."
Pressed further, Musa promised to speak with his GOC and get back with relevant information, but never did before the report was published.
However, a high ranking officer in 82 Division, who spoke on condition of anonimity, because he was not authorised to speak, rubbished reports that troops invaded Kanu's father's home.
The officer reiterated that the only contact the military had with Kanu was through his father, at a parley with monarchs on Wednesday.
"Look, his father was quite frail. The traditional ruler I saw that day, if you dare touch him, he may likely collapse. Even when he got up to speak, he had to be supported. So, where did this story of arrest come from?
READ ALSO: IGP says Wike's allegations against SARS are 'nonsense
"Besides, we did not go to their house yesterday. That's not true. At the Wednesday meeting which was attended by 300 others, we only told the father to produce his son and, in the presence of his fellow monarchs, he agreed. But, as I speak with you, he has not complied," the source said.
Meanwhile, IPOB, yesterday, condemned the attitude of political leaders in the region towards the ongoing face off between the army and IPOB members.
A statement by the Media and Publicity Secretary of IPOB, Mr. Emma Powerful, said it was troubled that certain political office holders in the South-East were comfortable with the idea of inviting Army into Abia to execute hundreds of young men and women in cold blood simply for asking for their right to self-determination.