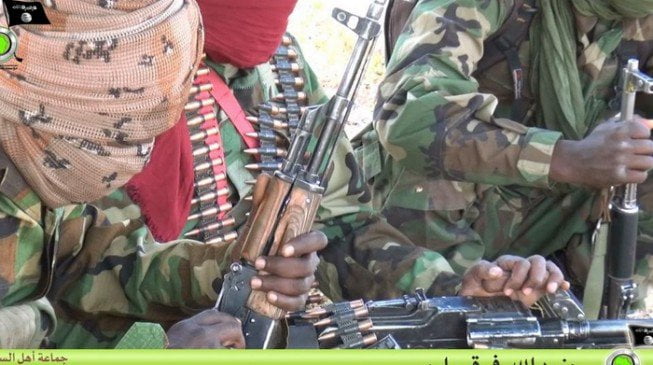 The Nigerian Air Force has disclosed that it noticed two flags hoisted by the Boko Haram terrorists on some buildings in the Zanari area of Borno State, border areas of Lake Chad.
NAF made the disclosure on Monday, including that its fighter aircraft – the F-7Ni and the Alpha Jet – afterwards attacked the buildings and killed several unidentified number of the insurgents, who held meetings at the location.
Director of Public Relations and Information of NAF, Air Commodore Olatokunbo Adesanya, said they sighted the Boko Haram flags on Thursday, September 7, adding that the air strike was part of the Operation Ruwan Wuta launched by the military.
READ ALSO: Jonathan didn't take Boko Haram seriously – Obasanjo
Adesanya said that the motive of the operation was to "further degrade the terrorists from regrouping to cause havoc for our surface forces."
He said, "We conducted an air interdiction on Boko Haram buildings with two hoisted flags in Zanari. Quite a number of them were earlier spotted from a NAF Intelligence, Surveillance and Reconnaissance platform. They were entering the buildings apparently for meetings. The F-7Ni and the Alpha Jet aircraft were detailed to attack the target.
"Our subsequent battle damage assessment revealed that the targeted structures went up in flames, killing its occupants. The operation is aimed at softening the ground for our surface forces to subsequently move in and conduct mop-up operations."