Yoruba elders are the source of our problems – Fayose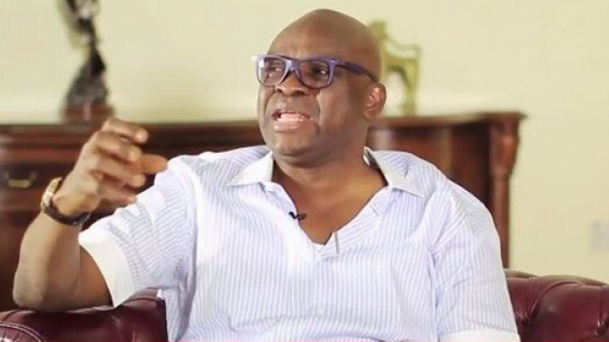 Ekiti State governor, Ayodele Fayose has accused some Yoruba elders of working against the current agitation for the restructuring of Nigeria.
Fayose said this on Thursday in Ibadan when south-west leaders met at the main bowl of the Lekan Salami Sports Complex, Adamasingba.
According to the summit held by the yoruba elders on Thursday, the elders said the country as a multi-ethnic country could only know real peace and development when it is run along federal lines. The summit resolved that the greatest imperatives of restructuring Nigeria was to move from arent-seeking and money sharing anti-development economy to productivity.
Read also: Man wrestles with armed robber for stealing girlfriend's phone
It also stated that this could be achieved by ensuring that the federating units are free to own and develop their resources, while they pay agreed sums to the federation purse to implement central services. The summit agreed that the federating units be it states, zones or regions, which must themselves be governed by written constitution to curb impunity at all levels.
It demanded that Nigeria should be a federation comprised of six regions and the federal capital territory, Abuja, while the regions shall in turn be composed as states.
According to Fayose, "They want us to talk about the truth or lies. But we will say the truth. They can throw the words away, but they can't throw us away. Our fathers, Chief Obafemi Awolowo, Sir Ladoke Akintola and other Yoruba leaders, tried their best for us.
"But you elders of Yoruba are the problem we have. We are our problems. We've had good meetings like this one, attended by elders and kings of Yoruba.
Read also: ASUU strike: Schools may re-open within one week
"After this summit, you will see some so-called Yoruba leaders saying on television 'we don't need restructuring.' To me, those words do not make sense. There is no alternative; we will go back to regions."
A leader of Pan Niger Delta Forum, Chief Albert Horsfall, in his remarks, noted that the people of his region started restructuring long ago, adding that agitation for restructuring of Nigeria depends on control of physical energy by each region.
He stated that each region should have the statutory rights to control "what you produce or what your soil produces."