Dismissed police, others arrested over catholic priest murder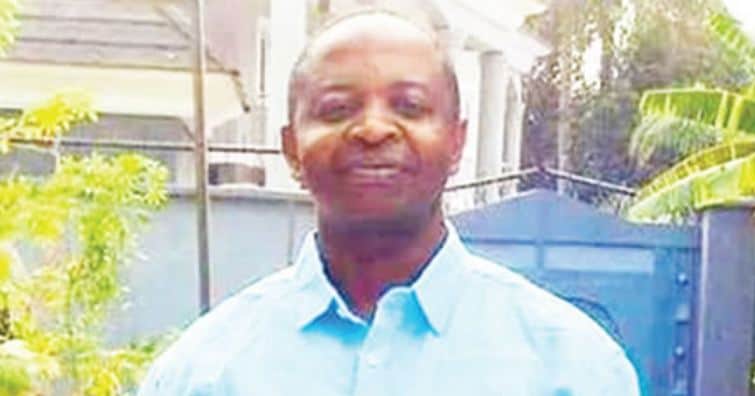 The suspected killers of Rev. Fr. Cyriacus Onunkwo of the Orlu Catholic Diocese, Imo State, were on Thursday paraded by the state Commissioner of Police, Chris Ezike.
The prime suspect has been identified as a 32-year-old dismissed ex-Corporal Jude Madu, alleged of leading the abduction of the cleric.
The late reverend father had travelled home for the burial rites of his father, Celestine Onunkwo.
Others suspects include Izuchukwu Okafor, 28, from Ukwukwa, in Azia, Anambra State; Cyril Onyema, 29, from Okwelle, Imo State; Emmanuel Ozuigbo, 29, from Ezeagu in Enugu State; Victor Ikechukwu, 33, from Obowo in Imo State; and Ifechukwu Nwosu, 28, from Azia, Anambra State.
According to the CP, the operation that led to the arrest of the kidnappers cuts across Imo, Anambra and Rivers states.
The CP further disclosed that police teams were able to arrest the suspects as a result of by tracking the telephone of the murdered priest.
READ ALSO: Just In: Killers of Catholic priest, Rev. Fr. Cyriacus Onunkwo, arrested
The Police boss added that the late reverend's wristwatch was recovered from one of the six suspects.
Ezike said, "We used forensic technology and backed it up with hard work, commitment, passion and hunger for success.
"The ex-policeman was arrested with the late reverend father's mobile phone.
"The policeman, who has been dismissed, is a member of an armed robbery/kidnapping syndicate and took part in the operation. He was arrested on September 5 in Owerri in possession of the deceased's phone. He has confessed to the crime.
"Rev. Fr. Onunkwo was abducted, tied up, while his mouth was covered with a reel of tapes and dumped in the booth of the car used by the hoodlums.
"He apparently gasped for air and could not make it. This interim finding has yet to be supported with scientific examination which further investigation intends to explore."
Ezike revealed that one of the murder suspects had absconded to Port Harcourt in Rivers State immediately after the operation.
"Okafor was arrested on September 6 at Hotel Presidential, Port Harcourt, where he fled after the incident. He has confessed as well," Ezike said.
The CP disclosed that another suspect, Onyema, drove the Toyota Avalon ash colour with number plate, ETU 368 AA, used for the operation.
Ezike said, "This investigation is five days old today (Thursday). Investigators traversed Anambra, Imo and Rivers states to achieve result".
One of the culprits confessed that they covered the mouth of the priest to stop him from shouting, which led to his death.
The suspect said, "We didn't know that he was a Catholic priest.
"It was after we kidnapped him that we found out that he was a priest. He started shouting that he was a priest; but we covered his mouth. Before we reached our destination, he was dead.
"The ex-policeman coordinated the operation. I stopped the car when our victim revealed his identity but he ordered me to move. I had to obey him because he was armed."