Biafra: Nnamdi Kanu has been bought over by the government – MASSOB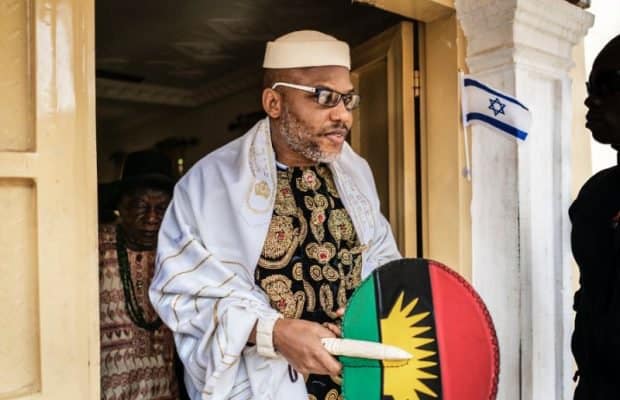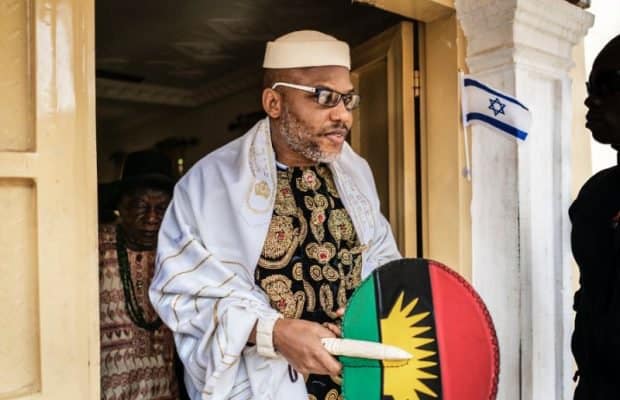 The founder of the Movement for the Actualisation of the Sovereign State of Biafra, Ralph Uwazuruike, has accused the IPOB leader, Nnamdi Kanu, of being compromised, adding that the Federal Government has bought mansions for him in London.
Uwazuruike made the shocking revelations in a chat with The Interview, a monthly magazine as reported by Punch.
According to him, Kanu is now on President Muhammadu Buhari's side and is working to scuttle the Biafran movement from within.
He said, "Apparently they saw Nnamdi Kanu as someone of high value for use. They heard him shouting on radio and approached him and he accepted. Naturally, only a strong, principled man can say no because they will give you irresistible offers."
"I know the mansions Nnamdi Kanu and people like him have abroad, given to them by the same government, – the same security agencies. Don't worry, the truth will emerge soon."
Uwazuruike claims the call by Kanu for the boycott of the November 18 Anambra State gubernatorial election is only a ploy to ensure APC is victorious at the Anambra polls.
He added, "All things playing out today, including the so-called 'no election' in Anambra State is nothing but a smokescreen. The 'no election' is aimed at favouring the APC to edge out Governor (Willie) Obiano; that's the only thing."
He also accused the IPOB leader of lacking ideas on how to attain Biafra.
READ ALSO: Biafra: I will never go on exile – Nnamdi Kanu
The MASSOB leader said, "Let him tell you his own agenda. What does he know about Biafra? Somebody who doesn't know the difference between an election and a referendum; that there is no difference between election and referendum.
"He says 'give me Biafra or give me a date for referendum.' So, what is the difference between the two? All the materials you use in a referendum are the same you use in an election. The only difference is that in an election, you may have many political parties while in a referendum, you vote yes or no."
READ ALSO: Biafra: Dambazzau protecting Arewa youths – MASSOB
He further accused Nnamdi Kanu of propagating hate speeches and setting unwanted examples for the Igbo people who are rather known as a decent and respectful people.
The MASSOB founder added, "Ndigbo must make sure they bring up their children well. Nnamdi Kanu is a bad example of what an Igbo child should be. He insulted the President-General of Ohanaeze Ndigbo.
"Even if there is Biafra and you are the President, what type of Biafra are you leading? If the Biafra we are talking about cannot be better than Nigeria, we better stay in Nigeria."