Biafra: I will never go on exile – Nnamdi Kanu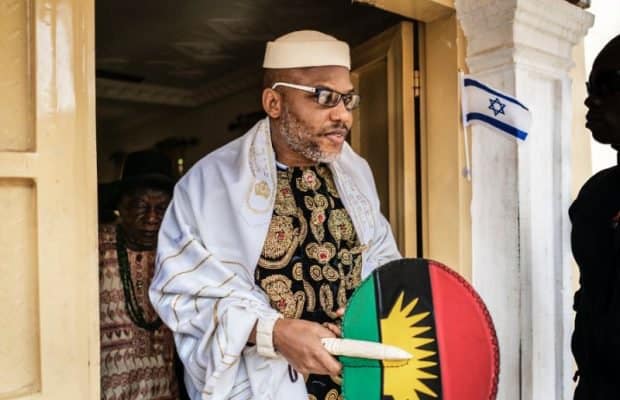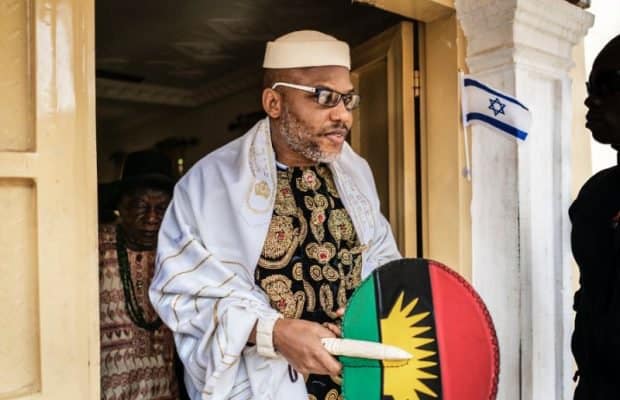 Following threats and calls for his rearrest by the federal government of Nigeria, leader of the Indigenous People of Biafra, (IPOB), Nnamdi Kanu has said he will not be forced into exile.
Kanu also said that the IPOB will remain calm and non violent despite attempts and actions by the government aimed at intimidating them.
In a statement released by its media and publicity secretary Emma Powerful, the IPOB group said: "Our leader Mazi Nnamdi Kanu has made it abundantly clear to all and sundry that he is NOT going on exile as a result of these childish threats from Hausa Fulani dominated Nigeria Government."
Powerful also said: "IPOB family members worldwide under the command and leadership of Mazi Nnamdi Kanu remain nonviolent, irrespective of the well documented brutal killings of unarmed peaceful demonstrators, abductions, torture, illegal detentions and summary executions of detainees by the Hausa Fulani Islamic run Nigeria Police and Army."
"IPOB remains impregnable and no man born of a woman can stop the agitation for Biafra restoration."
"Until the Hausa Fulani Islamic Nigeria Government fix a date for referendum to settle the issue of Biafra in a civilized and democratic manner, this raging agitation led by Mazi Nnamdi Kanu will continue."
"With the situation on ground today concerning Biafra freedom, we pity the APC Party and Nigerian Government led by Major General Muhammadu Buhari for choosing the uncivilized path of brute force and intimidation as opposed to referendum."
"We urge every Biafran, no matter where you are, to remain resolute and strong because Biafra is tantalizingly closer than we expect."
READ ALSO:Bukola Saraki is an anti corruption hero – Aide
"It is crystal clear that IPOB led by Mazi Nnamdi Kanu is ordained by (Chukwu Okike Abiama) God Almighty which no man can stop."
He further added that contrary to claims that Kanu has gone into hiding for fear of being rearrested, Kanu fears no human on earth and await the federal government to carry out its plan.
"Major General Muhammadu Buhari and his APC band of thugs should be the ones hiding from IPOB not us from them.
"It is unfortunate that some people in Arewa North do not know who Mazi Nnamdi Kanu is hence they keep coming up with laughable fabrications designed to demystify our leader, to no avail."
"Mazi Nnamdi Kanu they privately acknowledge, knows no fear and is undeterred by side rantings of the vocal parasitic few, who cannot imagine their existence without crude oil money coming from Biafraland."