Eid Mubarak: Passengers miss Osun free train ride, stranded at terminal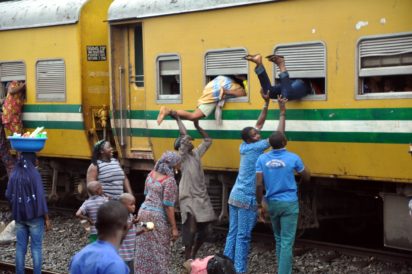 Hundreds of Osun-bound passengers, who had trooped to the Nigerian Railway Corporation (NRC), Iddo Terminal in Lagos for the free train ride provided by Osun Government for Eid-el-Kabir, were on Thursday stranded.
Due to the massive turnout of people for the ride, the available coaches were not enough o cater to the population.
Passengers struggling to board the Lagos to Oshogbo train at all cost [Photo Credit: Vanguard]
The free train ride is a collaboration between Gov. Rauf Aregbesola-led government and the NRC to convey Osun indigenes in Lagos to Osogbo and its environs along the rail line during the festive period.
Some of the stranded passengers expressed their  unhappiness at missing the trip, but commended the Osun government for the initiative, NAN reported.
However, they appealed to the government of Osun to provide more coaches or increase the number of days allotted for the exercise to enable intending travellers enjoy the freebie.
An artisan, Saliu Ademola, said, "I was shocked when I got to the terminal to see the crowd.
"The NRC should increase the number of coaches to enable the passengers to enjoy the train services."
READ ALSO: Eid Mubarak: Kogi doctors condemn payment of half salaries, say its discriminatory
Another traveller  Taibat Lawal, sadly said despite her early arrival at the terminal in the morning, she was unlucky to have missed the free transport service.
The Lagos District Manager, Mr Jerry Oche, commended the free train ride provided by Osun and enjoined the government to include more coaches in oredr to benefit more people.
He encourade stranded passengers to board the Kano-bound train tomorrow en route to Osogbo.
The regular fare per passenger for Lagos-Osogbo train trip is N1,500.
Source: Naija News