Evans forced to plead guilty by Police – Lawyer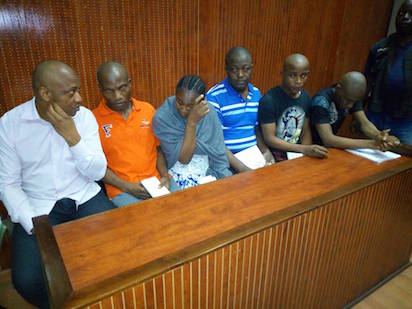 Suspected billionaire kidnapper, Chukwudumeme Onwuamadike's lawyer, Mr. Olukoya Ogungbeje, has alleged that the police forced his client to plead guilty to the kidnapping charges before a Lagos State High Court in Ikeja on Wednesday.
Ogungbeje said the police threatened to kill Onwuamadike, widely known as Evans, if he refused to plead guilty.
Ogungbeje, in a statement on the letter head of his law firm, Lawflex Chambers, sent to Punch after the Wednesday's proceedings, said his client would change his plea to "not guilty" at the next court sitting.
Saying Evans guilty plea was unwillingly made, Ogungbeje included that the defendant was deceived and pressured to plead guilty having been in detention for a so long a time.
READ ALSO: Breaking news: Evans The Kidnapper Pleads Guilty In Court
The lawyer noted that since June 10, 2017, when the suspect was remanded, the police had denied family members and lawyers, access to Evans in custody.
Ogunjebe said, "It must be noted that Our Client had been in Police Custody since 10th of June 2017 till date and we his lawyer and family members have been denied access to him".
The lawyer added that the guilty plea of the defendant on Wednesday was ineffective since the suspect was not given the chance to be adequately guided by lawyers before the charges were read to Onwuamadike and other suspects.
He added that his client was only served with the charges in the open court on Wednesday and the judge also turned down the plea for an adjournment to afford his client time and facilities as guaranteed by the Constitution to confer with the defendant, Punch reported.
READ ALSO: Police arrest accomplices of Evans the kidnapper
Ogungbeje said, "The information/charge sheet was served on us in open court hence, the need to confer with our client to enable us avail ourselves with the constitutional right of adequate time and facility to put up our defence.
"The court after turning down our plea for adjournment immediately ordered that the counts charges be read to him and others despite our plea for adjournment to enable us confer with our client in accordance with the law.
"After the purported guilty plea of our client and the court rose, we stressed to have brief discussion time with our client and he told us clearly that the police told him to plead guilty failure to which they would kill him.
"This is definitely unconstitutional and we intend to challenge this unconstitutional procedure for hoodwinking, undue influence, brainwashing and coercion on an accused into entering a guilty plea against his wish and free will.
"He pointedly told us that being informed us that being informed now, he will change his police-motivated guilty plea to not guilty at the next adjourned date.
"It is settled Law that plea of guilty must be made voluntary and direct devoid of any influence, coercion and manipulation.
"In the meantime, after our brief conferring with our client in open court, he made it known to us that he will change his police motivated guilty plea to 'not guilty' at the next adjourned date."
He insisted that he, as defence lawyer, had "a responsibility to assist the cause of justice in accordance with the law".
"This press statement is necessary for the Public to be well informed and proper education of the Evans' case," the lawyer stated.
Source: Naija News