Buhari approves rail lines from Kano to Daura, Others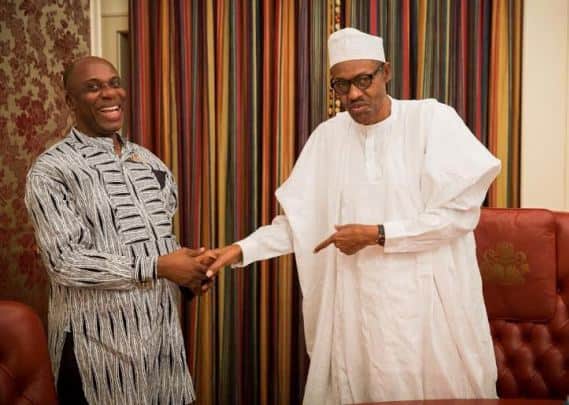 The minister of transportation, Rotimi Amaechi, said President Muhammadu Buhari has approved a rail line from Kano to his hometown, Daura, in Jibia local government area of Katsina State
The minister disclosed this on Friday at The Osasu Show Symposium which borders on the economy and its effects on the less privileged in Abuja.
It was gathered that the Symposium was attended by Okezie Ikpeazu, governor of Abia state; James Ibori, former governor of Delta state, Obong Victor Attah, former governor of Akwa Ibom state, and Lucky Igbinedion, former governor of Edo state.
According to Ameachi, the president also approved rail lines from Port Harcourt to Maiduguri, Kano to Maiduguri, Makurdi to Jos, Gombe to Yobe to Borno, Jigawa to Niger Republic.
Read also: Buhari must complete eight years – Oluwo of Iwo
Amaechi said the transportation infrastructure in Nigeria has been mismanaged for many years, and so much has to be done to restore the railway activities, and boost the economy.
"GE came here and annouced that they would give us 100 locomotives, we did the audit of our; our narrow gauge can't carry 17 locomotives, so by October 1st to October 2nd, we would be lauching about six to ten locomotives, because our narrow gauage cant carry more than that," Amaechi said.
"Government said concession this narrow guage, and we have successfully done that to the extent that we are able to sign an agreement with GE. By October GE will take over the narrow guage and begin to run from Port Harcourt to Maiduguri.
"When they stop at Umuahia, economic activities will be at Umuahia; the Umuahia station will become an economic hub. We the Ibos in Umuahia will be able to establish shops and sell goods we would like sell.
"That station from Port Harcourt to Aba, Aba to Umuahia, Umuahia to Enugu, Enugu to Makurdi, Makurdi to Jos, Jos to Bauchi, Bauchi to Gombe, Gombe to Borno.
"The president has also approved another rail line from Kano to Daura to Jibia and we hope to connect Jigawa from there and to Niger Republic."
Read also: No amount of hatred will erase Buhari's great achievements – Lai
Amaechi said the rail line from Itakpe to Warri will be resuscitated by the 2018, after 30 years of neglect, adding that the rail line will also connect Itakpe to Abuja.
"When we came, there was no rail contract connecting any of the seaports, and the president gave a directive for Lagos-Calabar to connect pORT Harcourt seaport, Onne seaport, Calabar seaport, Warri seaport and either Apapa or Tincan seaport.
"He has approved the construction two new deep seaports, one in Bonny, and the Lekki deep seaport."
Source: Naija News